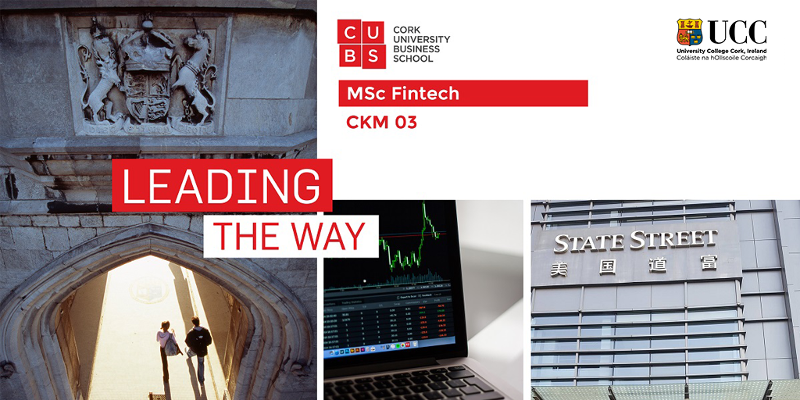 University College Cork with State Street Corporation and Zhejiang University invite applications for this unique, industry-focused career-defining postgraduate research experience in the State Street Advanced Technology Centre (ATC) in Cork University Business School.
We are currently accepting applications for a September 2018 start on the MSc by Research in Fintech programme and will have 20 fully funded research positions available.
Participants in the programme:
· Will be enrolled in the full-time MSc by Research for one year, full time, with a start date of September, 2018.
· Will receive an internship from State Street (concurrent with the year of enrolment) with an annual salary of up to €20,000 (students are responsible for paying their own fees for the MSc).
· Will have academic supervisors from UCC, a co-supervisor from Zhejiang University and an industry advisor from State Street.
· Will conduct original research in cutting-edge Fintech (specific topics and appropriate research methods will be set by the ATC operating committee).
· Will leverage their research to author, with their supervisors and advisor, research articles for both peer-reviewed publications and an industry audience.
· Will submit a portfolio of articles for examination and fulfilment of the MSc degree.
· Will be able to apply to receive travel support to support their research.
· Will be able to apply to continue their funded research, through migrating their research from an MSc to PhD.
Successful applicants will have:
a demonstrated an aptitude for creative problem solving, analytical and critical thinking, and effective written communication.
a demonstrated a capacity for both self-directed independent work and effective collaboration within teams.
a strong and relevant academic record (2H1+ in Information Systems, Finance, Computer Science, Mathematics, Commerce, Law, Engineering or related field).
Learn More:
20 Funded Research Scholarships Available - Information Session
Thursday 22nd February at 5pm
Brookfield Health Sciences Complex G01.
Interested parties can learn more about the centre/programme and engage with a number of State Street ATC Research Ambassadors who will be present at the event. State Street personnel will also be present to chat with interested parties.
To Apply
Applications should be made via the Postgraduate Application Centre (PAC) using the course code CKM03
For more information, please contact Dr Phillp O'Reilly