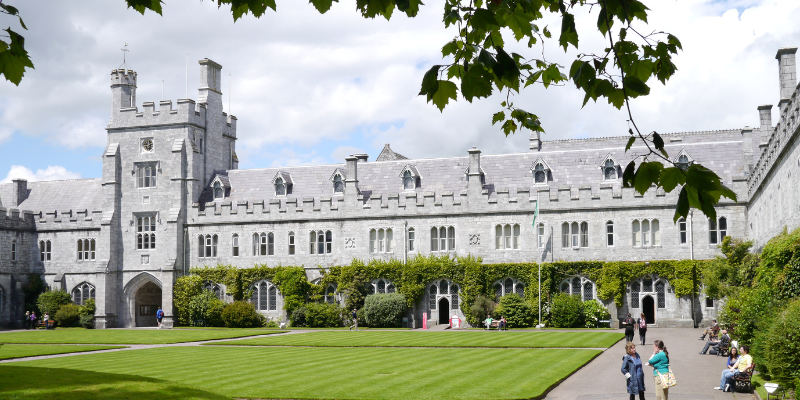 We are looking to recruit several full-time PhD students from across the globe. Our scholarships provide up to four years funding, covering doctoral programme tuition fees up to a maximum of €5,900 per annum and an annual stipend of €18,500 per year (subject to satisfactory progress in studies each year). Teaching experience will also be provided and is part of the scholarship.
Cork University Business School is committed to providing a dynamic and supportive learning and research environment, which recognises the diverse backgrounds and interests of both students and staff. In line with this, the successful applicant(s) will be provided with a supportive supervisory team and be provided with learning and networking opportunities to attain the highest standards of academic excellence. These scholarships seek to build on our already strong cohort of PhD scholars. We are looking for graduates who have a strong desire to earn a PhD that will attain the highest standards of academic excellence and positively influence their discipline in addition to being able to demonstrate the impact of their research to society.
Prospective applicants are directed to the list of potential research topics listed below and to then also consider the areas of expertise that exist in the Department when developing their research proposal. While we will consider research proposals not linked to the these topics, applicants must have engaged with a potential supervisor in the preparation of their research proposal, and have their agreement to supervise the PhD, if successful. Applications without the explicit agreement of a supervisor will not be considered.
The successful applicants will receive tailored guidance on their research, be part of a burgeoning research focused Department and School, gain access to key international networks, in addition to gaining experience in third-level teaching. The supervisory team will be drawn from scholars with a strong track record in publishing in the leading international journals and texts in their field of expertise, gaining competitive research funding, and hold various editorial positions. The successful applicant(s) can be confident that s/he will be on the right path to a successful academic career through completing their PhD in UCC. At the earliest possible opportunity during the tenure of a scholarship, the awardee will be required to prepare one, or if necessary two, application(s), under the guidance and advice of the supervisor, for external research funding under the Irish Research Council (IRC) Government of Ireland Postgraduate Scholarship Programme, if eligible to do so.
If you have any queries on the scholarships or PhD programme then please contact Dr. Ronan Carbery at [email protected], Director of Postgraduate Teaching and Learning.
Applicant criteria
To be eligible for the scholarship, applicants must have obtained a standard of at least Second Class Honours, Grade I in a relevant Masters degree.
If English is not your first language you will need to satisfy the English language requirement:
IELTS: 6.5- with no individual section lower than 6
TOEFL: 90 - with minimum scores as follows: Listening- 20; Reading - 19; Speaking - 21; Writing – 20
How to apply
The closing date for PhD scholarship applications is 5pm on Friday 28th October 2022. Presentations and interviews will take place in late November 2022.
To apply you must email through a completed application form (attached to email). In the case of applicants where English is not your first language, you must also provide evidence that you meet the entry criteria set out above.
Please note that candidates who do not submit a fully completed application form (and evidence of satisfying the English language requirements where required) by the specific deadline will not be considered. Please note that we reserve the right to check any submitted proposal for originality.
Your application should be emailed to Siobhan Boyle ([email protected]) Every application will be acknowledged.
The successful scholarship awardees will then have to submit a formal application through the University application system with an anticipated start date in January 2023.
PhD Scholarship Topics of Interest
Supervisor
Email
Topics
David Alton

[email protected]

Digital Consumer Culture
Consumer Identity Projects (Digital Contexts)
Sports Marketing / Fandom Studies

Gillian Barrett

[email protected]

Open innovation
Sustainable business models
Entrepreneurship education

Matthias Beck

[email protected]

Management challenges of public-private partnership working in infrastructure procurement
Managing pharmaceutical shortages and price fluctuations
Performance Appraisal, Performance Management and Organisation-Level Performance: A Review & A Proposed Model in the Post Covid World

Joan Buckey

[email protected]

Assessing the sustainability of ethics and/or sustainability education programmes where there is context change
Indirect to consumer advertising of prescription pharmaceuticals

Ronan Carbery

[email protected]

Gigwork

Algorithmic management

Automation of work

Lawrence Dooley

[email protected]

University-Industry collaboration, commercialisation and knowledge exchange
Entrepreneurial ecosystems, venture creation and SME competitiveness
Organisational innovation, the circular economy and grand challenges

[email protected]

/

[email protected]

Impact of new virtual spaces for Business-to-Business (B2B) interaction
The influence of Digital media on entrepreneurial network processes.
Sustainability processes and circular economy innovations through digital technologies in B2B contexts.

Carol Kelleher

[email protected]

Service Design
Care and Care Relations
Public Patient Involvement (PPI) in Health and Social Care Research

Thomas Lawton

[email protected]

International political risk management
Business model innovation in foreign market entry
Stakeholder management in international business

Stavroula Leka

[email protected]

Developing healthy work environments to promote well-being and organisational sustainability
Evaluating the policy context in employment and health to address the changing working conditions landscape and the future of work
Psychosocial risk management at work and the future of work: Addressing the changing nature of work and working conditions

Mackenzie

[email protected]

Ethical and Sustainable Leaders & Leadership
Paradoxical Leadership in Times of Crisis
Recidivistic Corporate Illegality

Mary McCarthy

[email protected]

Food Sustainability Practices: Households and Consumers.
Psycho-social determinants of consumer acceptance on new/novel foods and technologies.
Behavioural Change: Sustainability and health as part of the food choice process.

Anthony McDonnell

[email protected]

Talent Management
Global work arrangements in a post-Covid world
The Future of Work

David McKevitt

[email protected]

Project Management careers
Job crafting and flow at work
Project success

Elaine O'Brien

[email protected]

Experiences of and attitudes towards menopause at work
Job Crafting and work engagement
Emotional climate, emotional labour and employee voice

Sean Tanner

[email protected]

Consumer privacy and the quantified self
Sustainable consumption practices
Meanings and knowledge: implications for food product preference and selections