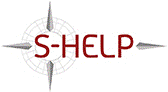 An international expert in disaster and risk management, Professor David Alexander is the keynote speaker at a conference in Wood Quay Venue, Dublin on Friday, January 27th, to mark the conclusion of the €3.5 million EU-funded S-HELP project.

This international conference for practitioners and academics, which explored current and emerging approaches in Emergency Management, showcased the results of the S-HELP project, and demonstrated its Decision Support System which will enhance the decision-making of healthcare and security professionals in disasters.

Professor David Alexander teaches emergency planning and management in University College London and is renowned for his research into earthquakes and the impact they have on public health.

S-HELP (Securing Health, Emergency, Learning and Planning) is a research and development project lead by University College Cork that, over the last three years, has developed an online decision support system to assist healthcare emergency responders to make faster, more effective decisions in a disaster situation. It is a joint venture between nine organisations from across Europe, including four Irish partners - Dublin urban planning consultancy Future Analytics Consulting, UCC Business Information Systems, the HSE, and the ASSERT Centre, UCC.

Speaking about the event, Dr Karen Neville, S-HELP coordinator said "We are thrilled to have as our keynote speaker someone as prestigious as Professor David Alexander, this really is a fitting end to our project and the launch of our next step: the commercialisation of the S-HELP DS Tools."

The event featured a demonstration, by Dr Andrew Pope and Dr Simon Woodworth, of the online platform and its features and benefits for the emergency response community. Members of the principal emergency response agencies included the Irish Defence Forces, the HSE, An Gardaí Siochana and the PSNI were among the attendees.

Three evaluation exercises were conducted for the project in 2016 – in November, members of the Principal Response Agencies along with members of the Voluntary Emergency Services partook in an exercise in Cork to test a decision support tool-set designed to reduce the impact of a regional flood; October saw a simulated chemical explosion scenario held in Dublin; while a simulated pandemic took place in Tel Aviv, Israel in September.

See www.fp7-shelp.eu or follow @fp7shelp on Twitter to find out more about the project.