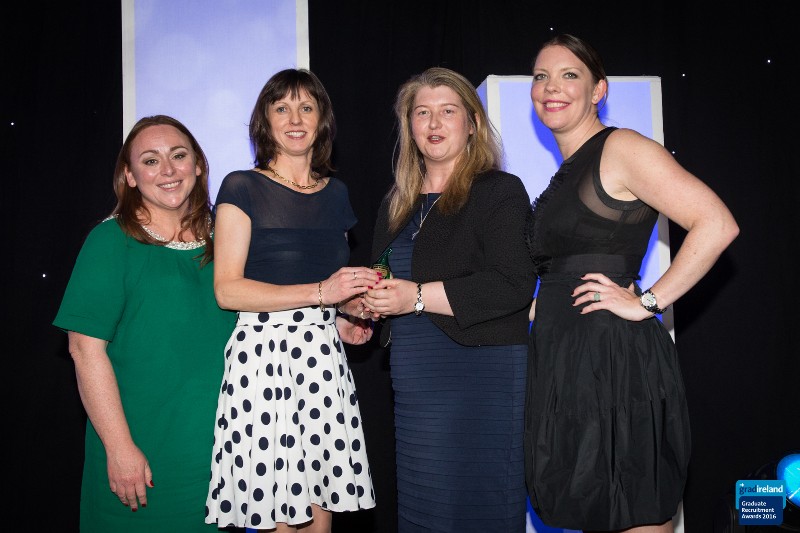 UCC's MSc Information Systems for Business Performance (ISBP) once again came out on top at the 2016 GradIreland Awards, as it was named "Postgraduate Course of the Year – IT", on Thursday, April 28th at the Mansion House, Dublin.
This is the fourth year in a row that the Cork University Business School (CUBS) course has won its category at the awards which celebrate excellence in postgraduate course provision, collaboration between industry and academia, and recognise employment initiatives provided by postgraduate course providers across Ireland.
The MSc ISBP was named Best Business Course in Ireland in 2015 and Best IT Course in 2014 and again also 2013. It provides a unique blend of management and IT skills, enabling students to understand how organisations operate and how the factors affecting their performance can be finely tuned using information systems.
Throughout this 12-month full-time course at UCC, the applied aspects of building, leveraging and managing information systems and technologies relies on both class room and practical computer laboratory interaction where students are taught from beginner level. A balance is struck between the technology management activities and the analysis/ development activities that affect modern organisations. Dedicated course directors and staff, both academic and administrative, are committed to the welfare and education of the students; while industry and academic mentoring ensures the integration of theory and practice, thus allowing close interaction between students and world-class experts across a variety of organisations (e.g VMware, PepsiCo, FAC, BOI, EMC, Abtran).
Speaking following the GradIreland Award win, Dr. Audrey Grace, Co-Director of the MSc ISBP "We're delighted to have been named Postgraduate Course of the Year in the IT category. One of the key success factors of the MSc ISBP is its recognition that IT is the primary enabler of business success. Our graduates understand how to employ IT to deliver the business value that underpins this success."
The course boasts virtually 100% employability and Dr. Karen Neville, also Co-Director of the MSc ISBP, attributes this to the fact that "The course addresses industry demand by providing students with a detailed understanding of leading edge technologies and how these may be exploited in a global business environment."
The programme was also shortlisted for "Postgraduate Course of the Year – Business" and came second in this category at the awards.
For more information: MSc in Information Systems for Business Performance (MSc ISBP)