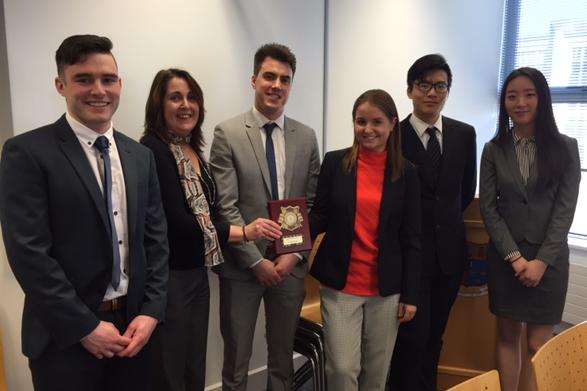 "Instagrow" emerged as winners of the annual MSc MIMAS systems development project competition.
The competition requires teams of students pursuing the MSc MIMAS (Management Information & Managerial Accounting Systems) degree (CKL05) to present their group systems development projects to a panel of industry experts.
Each group was charged with automating a number of manual business processes for a fictional Cork based bakery. To successfully achieve this objective, students had to apply their management accounting and information systems knowledge to the business brief provided to them. After thoughtful consideration, the "contract" for the new system was awarded to the "Instagrow" team consisting of Edward Kerrisk, Suzanne Rice, Darragh Hennessy, Christina O'Riordan, Chenjun Xu and Mengjian Wang. All groups were mentored by the programme co-ordinators, Dr. Fergal Carton and Dr. Peter Cleary.
The MSc (Management Information and Managerial Accounting Systems) degree programme is a 15 month conversion programme designed for honours undergraduate students who wish to pursue a career in Accounting and/or IS. A six month industrial placement forms part of the syllabus and provides students with the opportunity to gain invaluable and relevant employment experience in these areas; both of whom currently have a very high demand for graduates.
For more details on MSc MIMAS at UCC, visit here, or telephone 021 490 2506.
Applications for the MSc MIMAS programme can be made online here using the course code CKL05.