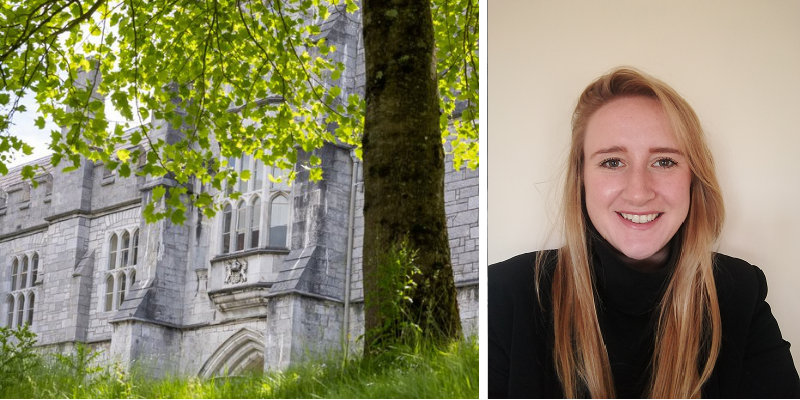 Muireann McSweeney landed her dream job as a commercial analyst with Ryanair by leveraging the practical business skills that she developed while studying the MSc Business Economics at Cork University Business School.
Having initially completed an undergraduate degree in Chemistry, Muireann had not been exposed to the world of business and didn't possess the professional skills demanded by employers who seek graduates that can make an immediate contribution.
As such, when Muireann interviewed for the role in Ryanair, she needed to demonstrate how her unique skillset could add value to the airline.
This process was aided by Tomás Kenneally, who, through the programme's professional business skills module, seeks to help students enhance their online profiles and prepare them for real world interviews in what is a competitive jobs market.
As part of my interview with Ryanair, I had to prepare a SWOT analysis about establishing a new route into one of Ryanair's European bases.

Because I had completed so many presentations about strategic planning and executing new ideas, I was very accustomed to preparing different types of SWOT analysis.

Through the programme, I also learned how to make the analytical skills that I had developed in chemistry relevant to business.

It was only when I began to blend those skills with the report writing techniques that I developed in CUBS that I saw how both disciplines could complement each other.

Tomás Kenneally's advice on how to build a LinkedIn profile that would engage recruiters was also really important for me.

Because I was able to showcase all my skills, a recruiter representing KPMG messaged me on LinkedIn before I had even graduated. I never experienced anything like that before.
Motivated by her desire to become a strategic decision maker, Muireann chose to enrol in the MSc Business Economics after spending a number of years working in Europe and New Zealand.
As such, the programme represented a step change in Muireann's career path and a significant statement of her ambition to maximise her talent.
After I completed my undergraduate in Chemistry, I wanted to go travelling and experience things that I never had the opportunity to explore in Ireland.

Personally, and professionally, it was a great experience. Working in different countries exposes you to so many different ideas, and that really fed my ambition to study business and learn about the strategic side of decision making.

When I first came across the MSc Business Economics, it really spoke to my career goals, so I didn't have any second thoughts about applying.

Now that I have finished the programme, I really value the modules that we studied and the assignments that we completed.
Having since secured her dream role with Ryanair, which marries her newly acquired business skills with her love of travelling, Muireann's next goal is to forge a long and successful career within the airline company's commercial department.
Her ambition will in no doubt be aided by the skills and knowledge that she developed at CUBS, which has primed her to adapt to Ryanair's sophisticated and fast paced multinational operation.
The learnings that Muireann will take from the role, along with a desire to further her education when the time is right, will ensure that she remains at the forefront of a rapidly evolving industry.