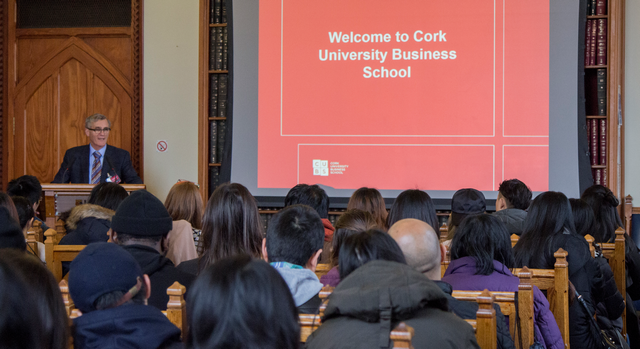 The event was hosted in University College Cork's prestigious Council Room and showcased the broad range of undergraduate, postgraduate and post experience programmes that are available.
Dean of CUBS, Prof. Ciaran Murphy opened the event by welcoming students to Cork and paying tribute to the University's history; as well as the paramount importance of business courses since the very beginning in 1845. Professor Murphy spoke about the challenging environment and the aim of Cork University Business School to stretch their students as well as the support that students can rely on from staff and their peers in the College.
Student ambassador Chenxing Zhe also took to the lectern to give an inspiring speech about her experiences as an international student in Cork University Business School. When Chenxing arrived in Ireland she was concerned about her accent and worried that English wasn't good enough. She has since learned that having confidence is much more important to her success as a student and as a businessperson.
Ms. Zhe told the students "Since coming here I have become much more independent. There were times when I felt upset and lonely but I think that this has only made me stronger. UCC is a really rich experience for every Chinese Student"
After the presentations, prospective students were given the opportunity to speak directly to Programme Directors from a range of CUBS disciplines including Accounting and Finance, Management and Marketing, Business Information Systems and Economics.
A representative from the International Office also attended the event to provide information on credentials and give students conditional offers that very same day.
Afterwards students were also given the opportunity to tour the UCC impressive campus with the help of Peer Support who provided entertaining campus anecdotes; for example If you walk across the grass on the Main Quadrangle then you will apparently fail all your exams!
In the afternoon buses brought students to Blarney Castle where they toured 60 acres of stunning gardens and of course kissed the Blarney Stone.
Contact us for more information about Cork University Business School.