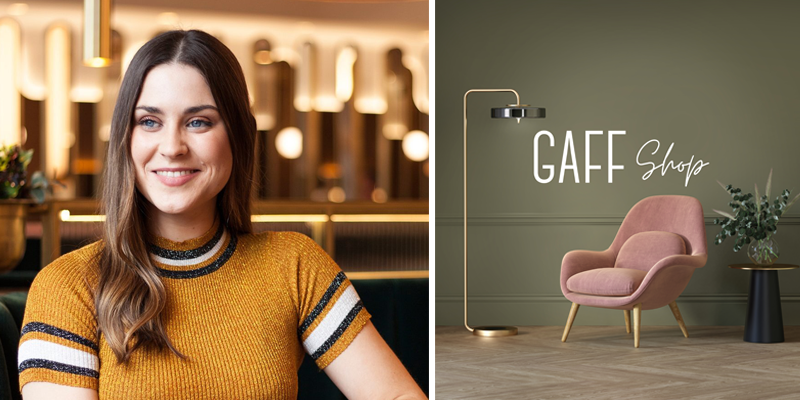 Jo Linehan left CUBS in 2008 to pursue a career as a fashion and lifestyle journalist. Since then, Jo's career has blossomed, with her work being featured regularly in national and international media.
Passionate about sustainability and the cause of environmentalism, Jo established Gaff Interiors alongside Caroline Foran with the ambition of promoting the circular economy by allowing people purchase second-hand furniture online.
How do you go from studying international development and food policy at CUBS to becoming a freelance writer contributing to international outlets such as Forbes?
In short, a lot of hard work, determination and a fair share of heartbreak.
During my time at UCC, I contributed to the student newspaper [University Express]. That's where my love affair with writing and journalism really took hold.
That experience encouraged me to start a fashion blog, which channelled a lot of my creative energy when I left university to study music.
Blogging was something that I did in my spare time, but after I was shortlisted for an award by Vogue, I became more confident and began looking at ways of becoming a fashion writer.
Because I was young, naïve and fearless, I didn't think anything of moving to Dublin and knocking on every door that I could possibly think of.
Eventually, I got my break with Image Magazine, who took me on as an intern and it all started from there.
In one sense, those initial steps must have been very exciting, but very daunting also?
Looking at what many of my peers were doing at the time, I really felt the pressure of having to find a career.
The social pressure was very real, and I didn't appreciate how tight knit the media landscape was in Ireland. It's very difficult to secure a job when you're competing against people who have already established or inherited solid networks.
But I felt so passionately about pursuing a career in the industry that I needed to give it my best shot and have no regrets.
When I got my break, I felt a great sense of relief. Things just built from there.
Did your experience in the fashion and interiors space inform your decision to establish Gaff Interiors?
Yes, 100%. Because Image had several other titles in the lifestyle genre, I learned an awful lot during my four and a half years there. I took that knowledge with me to New York when I started to pick up work as a freelancer.
While there, I was mindful to look out for opportunities and ideas that I could bring back to Ireland. What I discovered was that trend-driven seasonal interiors were huge.
People could spend entire weekends browsing flea markets for specific types of furniture. It was very dynamic in comparison to Ireland, where people might buy a sofa once every 10 or 15 years.
So, when I came back to Dublin, I met Caroline Foran to talk about the possibility of writing about interiors in a way that mirrored what was going on in New York.
Caroline had just bought her first home and was struggling to find advice and inspiration about interiors.
That's when the penny dropped, and we decided to set up Gaff. Our concept was simple, we just wanted to provide people with tips on how to spruce up their homes and to offer advice on where to buy interior furniture.
What was the breakthrough moment for Gaff Interiors?
When we initially set up Gaff, we expected it to build slowly, but it just took off. It seemed as though the time was right.
So rather than there being a single moment, a few things happened in quick succession that allowed us to reach a national audience.
Saying that, I think we both had a lightbulb moment a little over two years ago which brought great clarity to the business.
While we loved interacting with followers and giving advice, we realised that we should be looking to promote the circular economy by helping Irish consumers and interior lovers become more sustainable.
That's how we came up with the idea for Gaff Shop - a place where people can buy and sell interior furnishings.
It was over two years in the making and launched in July. We're really proud of Gaff Shop because it doesn't just bring a sense of New York's flea markets to Ireland, it promotes the circular economy.
We would like to encourage people to have fun with their interiors by giving second-hand furniture a chance.
How big can Gaff grow?
As long as we can do it in a sustainable way, I don't think that there is a limit to how big Gaff can grow. There is no reason why we can't launch in the UK or further afield.
I think it would be really interesting to see what kind of items Irish people might pick up if could allow them to browse second-hand French furniture for example.
Going forward, we would love to work with large suppliers so that they could sell damaged items or end of season stock on our platform. We would also like to provide a space for small craft shops to sell furniture on Gaff.
What encouraged you to start recording the Futurist Podcast?
It's a passion project. I wanted to combine much of what I had absorbed in the fashion industry with my desire to learn about sustainable businesses by engaging with Irish entrepreneurs working in that emerging space.
I also wanted to be able to offer environmentally conscious entrepreneurs a platform to talk about what makes their businesses different.
After speaking with so many interesting people on the podcast, I'm now looking into the possibility of returning to college to learn more about sustainable business management.
Going forward, I feel that businesses that haven't incorporated or embraced sustainability might not be able to access the resources they need to succeed. If I can informally learn from what existing businesses are doing and formally study best practice, I should be able to adapt to whatever changes are coming.
What has been the proudest moment of your career?
I don't think there is a specific moment, but now and then I might receive an email or message from somebody that really stays with me.
For example, my partner and I recently travelled to Sligo, where we stayed in a B&B/restaurant called The Driftwood. I love it there, and I had written about them in the Irish Times a few months previously.
After the article was published, they got in touch to say that their business had exploded and that they had welcomed a whole new type of customer.
I love receiving messages like that, they affirm much of what you do and prove that you can make a difference. That's what motivates me.