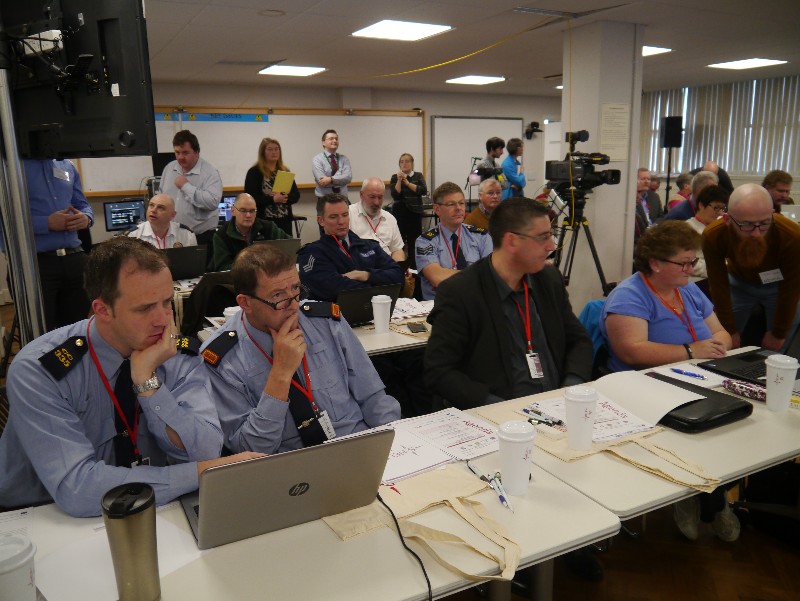 Members of An Garda Síochána joined with emergency services volunteers and local authority representatives at a Flooding exercise in Cork to test a toolset designed to reduce the impact of large-scale disasters on public health. The event took place on Friday, 25th November in the Local Coordination Centre at the headquarters of Cork Fire Brigade.
The online decision support system has been developed by S-HELP, a €3.5 million EU-funded research and development project led by Business Information Systems (BIS), Cork University Business School (CUBS) in University College Cork. Dr Karen Neville is the coordinator of the project and the development of the tool-set is led by Dr Andrew Pope and Dr Simon Woodworth; all staff in BIS, CUBS.
S-HELP (Securing Health, Emergency, Learning and Planning) is a three-year project that concludes in January 2017. It is a joint venture between nine organisations from across Europe including three Irish partners - Future Analytics Consulting, UCC-BIS, the HSE, and the ASSERT Centre, UCC.
This is the last of three evaluation exercises held by the project. Last month, a simulated chemical explosion scenario was held in Dublin, and a simulated pandemic took place in Tel Aviv, Israel, in September.
Visit the website or follow on Twitter to find out more about the project