Dr Declan Jordan
Back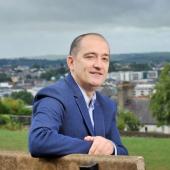 Contact
Department of Economics
Aras na Laoi
University College Cork
Cork University Business School
D.Jordan@ucc.ie LinkedIn profile Twitter

ORCID profile https://declanjordan.com
Biography
Declan Jordan is a Senior Lecturer in Economics at Cork University Business School. He is a current research associate and former co-Director of the Spatial and Regional Economics Research Centre. He is also a member of the Centre for Sports Economics and Law. Declan's research interests include regional and urban economics business innovation, regional development and competitiveness, innovation and enterprise policy, and sports economics. He has published widely in these areas in international peer reviewed journals.
Declan is currently an editor of REGION, the journal of the European Regional Science Association (ERSA), and an editor of the early career section of Regional Studies, Regional Science. He is a member of the publications committee of Spatial Economic Analysis.
He is a regular contributor on economic issues to national and international media, including newspaper, radio, and television outlets.
Prior to joining UCC, Declan gained substantial management and corporate experience, as Manager, Consulting with the leading Irish treasury and financial consulting firm in the International Financial Services Centre (IFSC) and as Treasury Manager with Intel Ireland. He lectures at undergraduate and postgraduate levels. He has taught on the Executive MBA programme and has supervised PhD students to completion. Declan has a PhD (Economics) from University College Cork. He graduated from University of Limerick in 1991 with an honours Bachelor of Business Studies degree. In 1993 he was awarded an honours Masters in Economic Science degree from University College Dublin.
Grants and Honours
01/09/2018 - College of Business Law Publication Excellence Award, UCC
01/09/2018 - Opening the Black Box of Innovation in Social Enterprises, University College Cork
10/01/2015 - Measuring and evaluating economic and commercial impact of large and publicly funded Research Centres., Irish Research Council
20/11/2014 - EI"H2020 Prop Prep CS-2015-1184"Dr D Jordan [X], Enterprise Ireland
Back to top
Other Activities
24/05/2021 - Aer Lingus sale compromises commitment to regional development
03/05/2021 - New economic thinking is needed as we emerge from the pandemic
27/04/2021 - RTE Primetime - Impact of COVID recession on students and graduates
21/11/2020 - Cork-Limerick greenway: Taking the right road to generate a natural cycle of health and wealth
04/09/2020 - Irish Examiner Mick Clifford Podcast - Time for a Basic Income
17/08/2020 - Covid crisis shows need for basic income scheme - Irish Examiner
14/08/2020 - Supports for business in localised COVID lockdown - Newstalk
09/07/2020 - The COVID economic stimulus - RTE Primetime
06/07/2020 - Minister Harris needs to address the immediate huge hole in our colleges' finances - Irish Examiner
03/07/2020 - Climate Change and the Economy - Newstalk
16/06/2020 - Green climate commitments mark a 'change in mindset' - Irish Examiner
12/05/2020 - The future of third level education in Ireland - Newstalk
11/05/2020 - Emission reductions must be necessity not ambition for next government - Irish Examiner
07/05/2020 - What are the prospects for Irish economy post-COVID - RTE Primetime
20/04/2020 - Shoppers may value their local stores more highly after Covid crisis ends - Irish Examiner
02/04/2020 - The cost to the Irish economy from COVID19 - RTE Primetime
17/03/2020 - Memo to Government - defer Vat payments and commercial rates amid the Covid-19 crisis
16/03/2020 - Unemployment rate likely heading to 10% amid Covid-19 economic toll - Irish Examiner
17/02/2020 - The next cabinet faces taxing choices - Irish Examiner
20/01/2020 - Elections undermine regional advances - Irish Examiner
28/12/2019 - Housing and climate take centre stage - Irish Examiner
02/12/2019 - In election year, Government is deaf to the warnings - Irish Examiner
04/11/2019 - The next best Brexit deal for business - Irish Examiner
24/10/2019 - RTE Morning Ireland - Interview on FDI and Irish regional development
16/10/2019 - Ireland is on the verge of Brexit - there are degrees of harm - Dagbladet Information (Denmark)
24/09/2019 - RTE Drivetime - Interview on decentralisation in Ireland
27/08/2019 - European Regional Science Associaiton 59th Annual Congress
17/08/2019 - Newstalk Down to Business - Future of public transport in Cork city
05/08/2019 - Cork needs buses not rail to drive its growth - Irish Examiner
27/07/2019 - Ireland's love affair with multinationals is set to change - but how can we adapt? - Irish Times
18/07/2019 - RTE Primetime - Should Ireland continue oil exploration?
16/07/2019 - Regional Science Association International - British & Irish Section Annual Conference
07/06/2019 - Airlines 'cannot expect a free pass' on emissions tax - Irish Examiner
24/05/2019 - CPA Ireland Annual Conference 2019 - Invited Speaker, Certified Public Accountants (CPA) Ireland
09/05/2019 - Irish Economic Association Annual Conference
22/04/2019 - Time to decide on third-level funding - Irish Examiner
25/03/2019 - Brexit mess still offers opportunity for Irish firms - Irish Examiner
16/03/2019 - Newstalk Down to Business - What will Irish economy look like post-Brexit
02/03/2019 - RTE Business Show - Trump Economics
04/02/2019 - Offshore wind can blow many benefits our way - Irish Examiner
07/01/2019 - We need to get serious about climate change - Irish Examiner
01/01/2019 - REGION
11/12/2018 - CUBS Insights Podcast - The rise of populism - Is Ireland next?
17/09/2018 - Strong sense of déjà vu all over again on property taxes - Irish Examiner
01/09/2018 - Special Virtual Issue on Regional Inequality
27/08/2018 - European Regional Science Association 58th Annual Congress
27/08/2018 - European Regional Science Association 58th Annual Congress
27/08/2018 - No-deal Brexit could result in 40,000 Irish jobs lost, warns economist - Irish Examiner
08/05/2018 - To compete and prosper, our cities need fewer cars - Irish Examiner
20/03/2018 - The Government's much-vaunted 2040 plan is a manifesto for sprawl - Irish Examiner
22/02/2018 - First Choice Purchasing Annual Conference - Brexit Presentation
08/01/2018 - Time to stop feeling guilty about investing in the arts - Irish Examiner
04/12/2017 - Regional policies hurting the places they should help - Irish Examiner
03/10/2017 - Radio Kerry - the economics of Ireland's bid for Rugby World Cup 2023
02/10/2017 - Rugby World Cup 'benefits' unlikely to be converted - Irish Examiner
11/09/2017 - Budget should focus on one thing: Housing - Irish Examiner
01/09/2017 - Regional Studies. Regional Science
01/09/2017 - Special Virtual Issue on Urban Development
29/08/2017 - European Regional Science Association 57th Annual Congress
22/08/2017 - Regional Science Association International - British and Irish Section 46th Annual Conference
22/08/2017 - Regional Science Association International - British & Irish Section
31/05/2017 - Cork jobs dispel Donald Trump threat, expert says - Irish Examiner
01/05/2017 - Evidence shows immigration is a boon to economies - Irish Examiner
09/02/2017 - RTE Morning Ireland - Should Ireland reconsider its dependence on FDI?
19/01/2017 - RTE Primetime - Ireland's transport problems
19/12/2016 - Ireland between a rock and a hard place on Brexit - Irish Examiner
10/11/2016 - President Trump's stated economics could be bad news for US and global economies - Irish Examiner
01/09/2016 - Special Virtual Issue on Migration
30/08/2016 - Regional Science Association International - British and Irish Section 45th Annual Conference
04/02/2016 - RTE Drivetime - What is the fiscal space?
22/12/2015 - The battle for the soul of modern art - Irish Times
19/11/2015 - Regional Studies Association Winter Conference 2015
27/08/2015 - European Sports Economics Association 7th Annual Conference
06/08/2015 - RTE Morning Ireland - Employment statistics and prospects for the Irish economy
19/08/2014 - Regional Science Association International - British and Irish Section 43rd Annual Conference
13/01/2014 - RTE Sunday Sport - The future of the League of Ireland
Back to top
Research Domains
Innovation
Regional Development  
Sports economics  
Innovation and Enterprise Policy
Regional Science  
Back to top
Thesis
9999 - Doctoral Degree, University College Cork (Thesis Primary Supervisor)
Doctoral Degree, University College Cork (Thesis Primary Supervisor)
Back to top
Publications
Journal article
| Year | Publication |
| --- | --- |
| 2018 | DORAN, J., JORDAN, D., ELHORST, P. (2018). Virtual special issue on regional inequality. Spatial Economic Analysis. Details |
| 2015 | DORAN, J., JORDAN, D. (2015). Decomposing US regional income inequality from 1969 to 2009. Applied Economics Letters. Details |
| 2013 | DORAN, J., JORDAN, D. (2013). Decomposing European NUTS2 regional inequality from 1980 to 2009. National and European policy implications. Journal of Economic Studies. Details |
| 2017 | JORDAN, D., MONASTIRIOTIS, V., ELHORST, P. (2017). Virtual special issue on urban development. Spatial Economic Analysis. Details |
| 2016 | JORDAN, D., ELHORST, P. (2016). Virtual Special Issue on Migration. Spatial Economic Analysis. Details |
| 2012 | MCGUIRK, H., JORDAN, D. (2012). Local Labour Market Diversity and Business Innovation: Evidence from Irish Manufacturing Businesses. European Planning Studies. Details |
| 2013 | DORAN, J., JORDAN, D., O'LEARY, E. (2013). Effects of R&D spending on Innovation by Irish and Foreign-owned Businesses. Journal of the Statistical and Social Inquiry Society of Ireland. |
| 2012 | DORAN, J., JORDAN, D., O'LEARY, E. (2012). The Effects of National and International Interaction on Innovation: Evidence from the Irish CIS: 2004–06. Details |
| 2008 | JORDAN, D., O'LEARY, E. (2008). Is Irish innovation policy working? Evidence from high-technology businesses. Journal of Statistical and Social Inquiry Society of Ireland. |
| 2019 | JONES, C., JORDAN, D. (2019). Agglomeration, urbanization and competitive performance: the natural experiment of English football. Regional Studies, Regional Science. Details |
| 2012 | CROWLEY, F., EAKINS, J., JORDAN, D. (2012). Participation, expenditure and regressivity in the Irish lottery: Evidence from Irish household Budget Survey 2004/2005. Economic and Social Review. |
| 2017 | CROWLEY, F., JORDAN, D. (2017). Does more competition increase business-level innovation? Evidence from domestically focused firms in emerging economies. Economics of Innovation and New Technology. Details |
| 2012 | DORAN, J., JORDAN, D., O'LEARY, E. (2012). The effects of the frequency of spatially proximate and distant interaction on innovation by Irish SMEs. Entrepreneurship and Regional Development. Details |
| 2015 | BOURKE, J., JORDAN, D. (2015). A two-stage examination of business innovation decision-making: Evidence from Ireland. International Journal of Business Innovation and Research. Details |
| 2016 | DORAN, J., JORDAN, D. (2016). Cross-sectoral differences in the drivers of innovation: Evidence from the Irish Community Innovation Survey. Journal of Economic Studies. Details |
| 2018 | DORAN, J., JORDAN, D. (2018). The effect of geographical proximity and rivalry on performance: evidence from the English Football League. Regional Studies. Details |
| 2020 | KANDROT, S., CUMMINS, V., JORDAN, D., MURPHY, J. (2020). Economic and employment impacts of offshore wind for Ireland: A value chain analysis. International Journal of Green Energy. Details |
| 2020 | KANDROT, S., CUMMINS, V., JORDAN, D., MURPHY, J. (2020). Economic and employment impacts of offshore wind for Ireland: A value chain analysis. International Journal of Green Energy. Details |
| 2021 | CROWLEY, F., JORDAN, D. (2021). Do local start-ups and knowledge spillovers matter for firm-level R&D investment? Urban Studies. Details |
Book chapter
| Year | Publication |
| --- | --- |
| 2010 | JORDAN, D., O'LEARY, E. (2010). The University, Innovation and Local Development. Glasnevin Publishing, Ireland. |
| 2009 | JORDAN, D., O'LEARY, E. (2009). Innovation Policy after the 'Celtic Tiger. |
Conference paper
| Year | Publication |
| --- | --- |
| 2009 | WENCHAO, W., JORDAN, D. (2009). The determinants of the adoption of Internet Banking by Chinese consumers. IEEE. Details |
Book review
| Year | Publication |
| --- | --- |
| 2012 | JORDAN, D. (2012). Universities, Knowledge Transfer, and Regional Development: Geography, Entrepreneurship, and Policy - Edited by Attila Varga. BOOK REVIEW. Growth and Change. Details |
Magazine article
| Year | Publication |
| --- | --- |
| 2009 | JORDAN, D. (2009). Re-imagining Innovation: Hold the Scientists and Bring in the Practitioners. Ivey Business Journal. |
Report
| Year | Publication |
| --- | --- |
| 2018 | JORDAN, D. (2018). Research and Innovation Observatory Country Report 2017: Ireland. Retrieved from https://rio.jrc.ec.europa.eu/country-analysis/Ireland/country-report |
Back to top