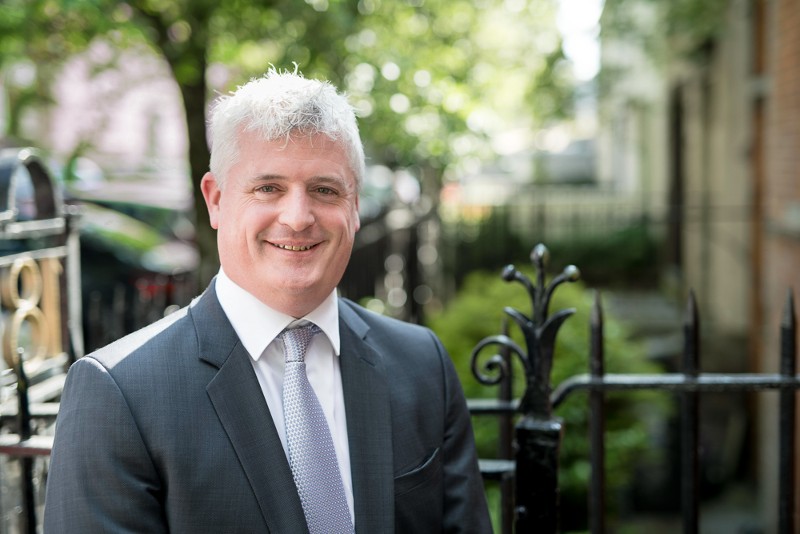 Founded as the Faculty of Commerce, the Business School's history stretches back over 150 years, to the formation of UCC. Since this time, our diverse, global and high achieving alumni have engaged in every field of business. From Finance, Food Business, to Accounting, Economics, Management, Marketing and Business Information Systems, we are proud to see our graduates fulfilling their potential and we seek to engage them in a continuous dialogue about Life in Business.
As we actively pursue accreditation and take our place among the top 50 Business Schools in Europe, we are committed to proactively engaging our alumni, telling their story and how the Business School put them on the road to success.
Read our alumni profile below with Barry Murphy, Deputy General Manager of the FDC Group and a proud member of the UCC BComm class of 1995.
Tell me about your own background and how you came to be Deputy General Manager of the FDC Group?
Although the FDC Group had been established by my father in 1973, it had always been agreed that our family would not work in the company.
So, after graduating from UCC with a BComm in 1995, I spent 18 months working in unrelated industry before my father said, "maybe it's time you took a job at FDC".
Naturally, I was stunned, it was a real "breakfast table moment" and something I won't forget. That Christmas, I spent a huge amount of time thinking about whether or not I wanted to join the business.
It wasn't a straight forward decision. The breadth of the BComm programme presented me with a range of options after graduating, so there was always that temptation to join a big multinational.

To work at the FDC Group, you really have to understand our ethos. It requires massive buy in and a desire to put people first. We are a family orientated organisation that represents family businesses of all sorts.
When we're advising family businesses, we look beyond their immediate commercial interests. That can makes things more complex, but we always start from there. We are committed to family values, something that makes the FDC Group stand apart.
When I joined the organisation in 1997 as a junior consultant in our Carlow office, the branch furthest away from our HQ in Cork city, I needed to fully appreciate that the company's reputation hinged on the advice we gave families and rural businesses rather than our products. That might sound a little altruistic, but we stand for family values.
Putting people ahead of the bottom line sometimes requires us to think laterally, but it has allowed the FDC Group to expand and create opportunities for people working here, including myself. To put things into a little perspective, our first employee only retired a month ago, that's the type of company we are.
The Deputy General Manager role is the final step toward my father's transition into retirement, which we are planning for without having a set date.
The agri industry has seen some dramatic changes since the FDC Group was established in 1973, how has the company remained ahead of the curve?
The FDC Group was established as a co-op that would provide services proportionate to the needs of rural Ireland.
In 1973, many of these services were not an absolute requirement, but we had the foresight to know that they would become so.
Ultimately, the company wanted to be able to provide quality services to rural Ireland, so as to negate the need for people to deal with companies based in Dublin and Cork. This was and continues to be our main focus.
To be able to do that, you need to invest time and resources locally, and build systems to support our decentralised model.
In 1973, that meant embracing technology at a time when people were still using ledgers. At the time, we were among the first organisations in the country using accounting software, which was custom built by a guy who was designing programmes to assist in the robotic production of cars.
Since then, we haven't strayed from that approach. We believe in putting people in front of people and developing products that are proportionate to their needs. We have never, and will not ever, abandon our people focussed ethos.
Using a decentralised model, today, the FDC Group provides a range of professional services to clients across Ireland. This must bring a degree of flexibility while also posing a number of challenges?
It's very important to commit to your values and ethos. That requires us to be local and accessible.
Of course, that brings challenges associated with infrastructure and fixed costs, which many of our competitors and peers don't possess or have been scaling back from.
Although technology can provide remote access to information, we believe that you cannot give credible advice unless you're in a face to face discussion.
As I alluded to earlier, quite often we are reacting to the specific personal needs of clients, and it's within that context we're framing our advice. That's our methodology and it requires decentralisation.
It is also important to remember that we view our organisation as being non-hierarchical. We do not have layers of bureaucracy or management. Instead, we employ a flat structure that provides a great deal of autonomy for people.
It's a structure that requires trust, which is something that a lot of advisory businesses fear because it has the potential to dilute the value of your overall brand.

We see things from the opposite perspective, we want to empower people and individuals to provide and be satisfied by the services they provide at any of our branches.
As an organisation that is embedded in rural Ireland, how prepared is the agri sector for Brexit and what challenges does it pose for the FDC Group?
A Brexit of any nature will pose specific challenges, particularly for beef and sheep farmers. The global nature of the dairy industry will insulate it somewhat.
Ultimately though, because the agricultural industry encourages efficiency and innovation, I think it will rebalance itself. As an organisation, we need to be central to that.
However, much like the agricultural industry as a whole, we will need to focus on what we're good at, and match the enthusiasm of our clients.
There is this perception that you need to farm on an industrial scale in order to make a living in rural Ireland, I don't subscribe to that at all.
We work with organisations who have found their niche and are delivering quality products or services. Post Brexit, placing an emphasis on quality will be key.
It is also important to remember that agriculture only represents one aspect of rural Ireland. As a country, we tend to identify rural life with farming in a way that other countries don't, but rural Ireland has a lot more to showcase than just agriculture.
Among our client base are a multitude of different businesses, each of which is innovative and resilient in their own right. They help maintain family life in rural Ireland and provide opportunities for people to thrive, and will continue to assist them after Brexit.
As an organisation that provides solutions to rural businesses, what can the FDC Group do to help farmers respond to the environmental challenges that lay ahead?
A lot of advisors and consultants out there are reactive, we see ourselves as being a proactive solutions organisation, so it wasn't today or yesterday that we started considering the impact of environmental policy on agriculture.
In our view, the coming environmental regulations are going to be as impactful as quotas were in the past. I think any person that is ignorant of that is making a mistake.
There is going to be a cost associated with that, both physical and monetary, and once you accept that fact, you take action.
In future, supports for agriculture are going to be determined by your compliance with environmental regulations. Getting ahead of that is the key, and that's our task.
That task will require policy buy in at a national level. I would certainly be of the view that there will be national support for ensuring the sustainability of rural Ireland as we change the way we do business.
Applicants who apply for an FDC Group Scholarship at CUBS are asked to identify an important issue facing rural Ireland and propose a concise strategy to address it.
As such, the Scholarship programme must provide you with innovative solutions to some of the issues we have been discussing?
We see the Scholarship programme as being essential to the growth of our own business and knowledge base, while also promoting the FDC Group as an attractive and innovative place to work.
I must admit, we were a little nervous about our role in facilitating the growth of students who should derive real value from being here.
As a result, we decided to place scholarship students in client facing roles where they would be exposed to real world problems.
What we have found is that they have brought fresh approaches that challenge us to act and think differently. Because we deal with businesses at different stages in their growth cycle, we want to encourage that kind of innovation, not stifle it.
If we want to offer credible advice to a young entrepreneur or business owner, we need to be able to articulate solutions that relate to their aspirations. Having access to talent students helps us to do that.
The entire experience has been hugely beneficial to us, and to our clients, who have relayed some extraordinary feedback.
Personally, I think it's crucial that we should play a role in fostering the next generation of business leaders and introduce them to values that should be at the heart of a sustainable organisation.

I also believe that we should be encouraging students to think critically about the role business plays in society, and how it can act in a holistic way.

For me, 3rd level education gave me the confidence to take what I learned in the classroom, contextualise and develop my own thoughts around that information, and apply it in the real world.
We want to encourage that through the Scholarship. (For more details about this scholarship, please click here)
What has been the proudest moment of your career?
Honestly, I don't think it has happened yet. I very much enjoy being part of a family orientated organisation that is growing at scale.
As part of a national outreach agenda, the FDC Group incorporates 35 branch offices and has grown its client base to 15,000. That's something I'm very proud of.
However, I think our ultimate aim should be to facilitate careers for people in rural Ireland to provide opportunities and services to people that may have only been available in Dublin.
If we can provide those kind of services nationwide, that will be a very proud day for us.