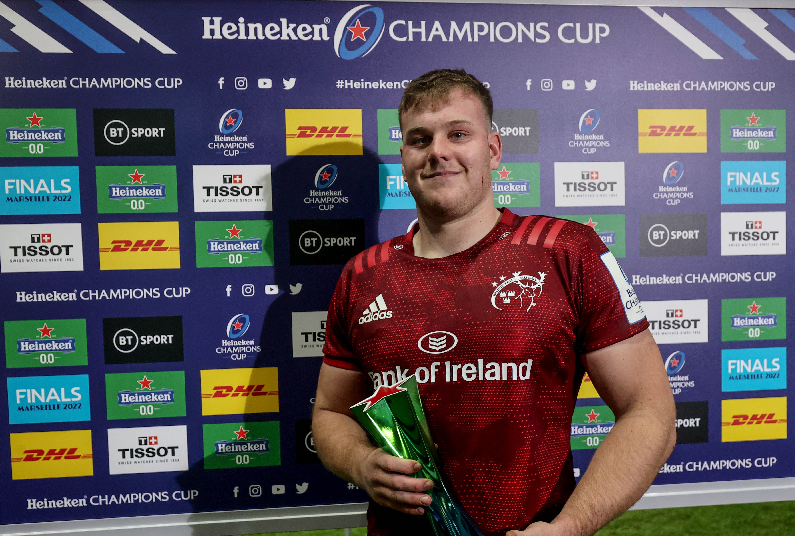 Immersed in the sporting and scholarly fabric of University College Cork, Scott Buckley didn't look beyond Cork University Business School when he placed the BSc Finance at the top of his CAO application.
An immensely talented rugby player, Scott grew up listening to his mother and grandparents reminisce about their time studying at UCC and the achievements of its remarkable alumni.
Captivated, Scott had a thorough knowledge of the University and the opportunities it creates for graduates in advance of sitting his leaving cert.
So, when it came time to fill out his CAO application, it wasn't so much a question of what university he'd like to study at, it was more about what CUBS programme he'd like to explore.
Long before I sat my leaving cert, I knew that I was only going to study at UCC. My grandparents studied here and so did my mother.

My family's connection with UCC was important to me when I began to look at different business courses.

And from speaking with other people who studied here, I knew how good the programmes were. In the end, I think I only included business courses from UCC in my CAO application.

From a sporting point of view, it was also hard to look beyond UCC. The facilities here are second to none and Quercus Talented Students' Programme gives you so many opportunities to learn and grow.
Now in his third year, Scott spent much of the opening semester on placement while also working incredibly hard to break into Munster's senior squad.
Although striking a balance between his sporting and academic ambitions was difficult for Scott at times, the design of the Quercus Talented Students' Programme enabled him to prioritise both equally.
I recently moved up to the senior squad with Munster which obviously changes my workload. The Quercus team and the lecturers at CUBS have offered great support in response to that.

If I'm under the pump or I'm selected to play for Munster, they have been very accommodating with extensions for assignments.

Oliver Brown is my academic mentor and he's always available to provide the extra support that I need to find a balance between sport and study. He's always there if I need anything.
Provided with the platform to excel in the classroom and on the rugby field, Scott was able to maximise his academic and sporting prowess as 2021 drew to a close.
Cast into the limelight following his player of the match display against Wasps in the Heineken Cup, Scott prepared for the fixture while on placement with Roberts Nathan, a Cork and Dublin based business advisory firm.
Although challenging, the reassuring support provided by CUBS, together with the encouragement offered by the management team at Roberts Nathan, ensured that Scott was to deliver both on and off the field.
My placement with Roberts Nathan was brilliant. I learned so much about accounting and corporate finance.

It was a great experience. I was working on vat and tax returns as the year came to a close, so it was really challenging at times. The environment and atmosphere in the office was great.

At the same time, I was playing rugby for UCC in the AIL. That really prepared me for the match against Wasps.

It was an opportunity that I'd been dreaming about for a while, so I'm hugely thankful to everyone who gave me the chance to really prepare for the game.
Despite being at the beginning of what promises to be a hugely successful rugby career, Scott is looking at ways in which he can continue to grow academically and professionally so that he can transition back to the workplace once his time on the field comes to a close.
Scott is already investigating post graduate programmes and seeking advice from peers and mentors about how he can navigate that transition and succeed in a future workplace that maybe radically different to what he experienced on placement.
Managing that transition back to the workplace is something that I spoke to my mentors in Roberts Nathan about.

It's also something that Quercus and Aileen Waterman at CUBS have been really helpful with. She has said that her door will always be open, even after I finish my rugby career.

That's really encouraging because, even though I want to do a post grad, I won't be able to do one immediately after I finish college.

I have also spoken to some of the senior players at Munster about how they keep developing their professional skills outside of rugby and adding to their resumes.

Building contacts and adding to my network is something that I'm going to have to do throughout my rugby career.
Given Scott's strong affiliation with UCC, and the Business School's deep-rooted relationship with its alumni, the process involved in building and nurturing that network will bring him on a journey that will lend itself to a long and successful career both on and off the field.