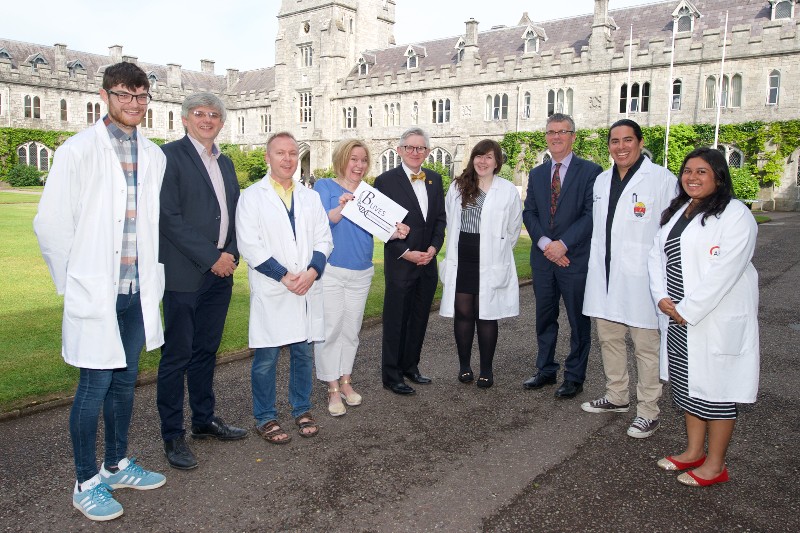 A UCC team, called BLives, has been shortlisted for the Student Entrepreneur Awards, which will be held in National University of Ireland, Galway (NUIG) on the 13th and 14th June.
BLives is a bio-innovative company that aims to accelerate the evolution of bee species around the globe. The team consists of Claire McSweeney, Eoghan O'Leary, John O'Sullivan, and international team members, David Zelaya and Samprikta Manna, who are from Honduras and India respectively. They are all students in MSc Cell Molecular Biology and Bio Innovation, which focusses on biomedical research in the areas of: cancer biology, genetics, infection/immunity or molecular neuroscience and entrepreneurial education provided by the Cork University Business School (CUBS). This multidisciplinary team of young scientists want to give the humble bees a fighting chance through genetic modification against the chemicals that are used to control and kill insects or pesticides.
In congratulating the UCC on being shortlisted, UCC President, Professor Patrick O'Shea said
"It is very important that entrepreneurship education is available across campus at UCC, the educational collaboration between Science and the Business School has enabled this team to identify an important opportunity and through their scientific and business training they can create more value than they consume. "
Professor John O'Halloran, Deputy President and Registrar, added "This is a great example of how Biomedical Science with entrepreneurship can address large scale global problems such as the rapid decline of bee populations in a very innovative manner. We wish the team the best of luck in the finals."
This year celebrates the 37th year of the prestigious awards which are co-sponsored by Enterprise Ireland, Invest NI, Cruickshank Intellectual Property Attorneys, Intel and Grant Thornton and are open to all third level colleges across Ireland. The Student Entrepreneur Awards are part of a major drive aimed at encouraging students to start their own business as a career option. The substantial prize fund includes €35,000 in cash prizes and €30,000 in consultancy fees which are available for winners to help them turn their idea into a commercial reality. In addition to winning the top prize, the winning team will also receive mentoring from Enterprise Ireland to develop the commercial viability of their overall concept.