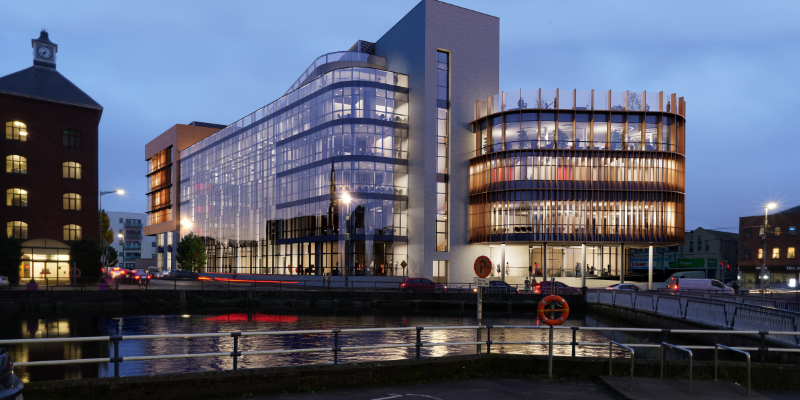 University College Cork (UCC) has applied for planning permission for the development of a world class business school in the centre of Cork City.
Located at the former Brooks Haughton site on Copley Street, the proposed new building will be home to Cork University Business School (CUBS). UCC is seeking permission to develop a 3 to 6 storey academic building of 15,675m2, as designed by a team led by RKD Architects.
The new building will have state of the art facilities, including a 350 seater lecture theatre, teaching and research spaces, restaurant, etc. to match international standing. The new building will provide an economic boost to the area by bringing over 4,500 students and 225 staff into the city centre every day. The CUBS building is designed based on active travel principles, with access primarily via public transport, cycling and walking.
A courtyard, café and restaurant, roof garden and a new pedestrian laneway from Copley Street to South Terrace forms part of the submission, and UCC intends to conserve the historic 18/19 South Terrace as an integral part of the development.
UCC sees the new CUBS building as a contribution to a 'higher education quarter', which will complement the existing cluster of education buildings in this part of the city.
Commenting Professor Thia Hennessy, Dean of CUBS stated "We are excited to submit our plans for the development of a world class business school in Cork. Significant benefits for the city, regionally and nationally can be realised through this development and much time has been spent ensuring we develop a sustainable building that enhances the local area and the urban fabric of the city."
Mark Poland, Director of Buildings and Estates at UCC, added "The project, is part funded from the HEA under the Higher Education Strategic Infrastructure Fund, and is part of an ambitious capital programme planned by the University in line with its masterplan strategy".