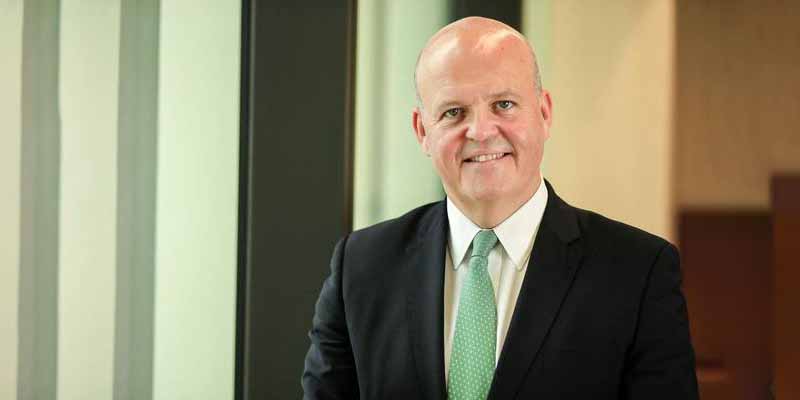 Colin Hunt, CEO of AIB, will candidly discuss the future of the banking industry and the role it can play in tackling the climate emergency with Professor Thia Hennessy, Dean of Cork University Business School, at 6pm on Thursday 6 February in UCC's Centre for Executive Education.
Taking place six days after Britain's scheduled departure from the European Union, the timely discussion between two of Ireland's leading business thinkers will also consider the implications of Brexit and Ireland's trajectory within the global economic cycle.
As such, the conversation between Dr Hunt and Professor Thia Hennessy will provide attendees with a unique perspective on the challenges and possibilities that Irish businesses will encounter in the coming years.
Speaking in his capacity as Cork University Business School's CEO in residence, Dr Hunt will also describe how he began his career working as an intern with AIB in his native Waterford before returning to the organisation as Managing Director of Wholesale and Institutional Banking in 2016.
Since Dr Hunt's appointment as CEO in March 2019, AIB has underlined its commitment to promote climate action through its 'Do More' campaign, pledging to make five billion euro available to support climate action. Following the appointment of Geraldine Casey as Chief People Officer, the bank has established a gender-balanced executive committee for the first time.
Relevant issues that will stimulate an engaging conversation as they are both of special interest to Professor Hennessy.
"Addressing the climate crisis and managing the impact of Brexit are two of the most immediate concerns facing Irish business."

"As CEO of AIB, Colin Hunt is in a unique position of being able to describe how the financial industry will lead the response to these real and immediate challenges".
The Dean of Cork University Business School will use the event to update attendees on the latest developments pertaining to the new state-of-the-art CUBS building, which is to be located on the Trinity Quarter site in the heart of Cork city.
The event, which is open to all UCC alumni and friends, also provides those in attendance with the opportunity to tour the recently refurbished Centre for Executive Education.
Admission is free but registration is required.
To register, please visit UCC Development and Alumni.