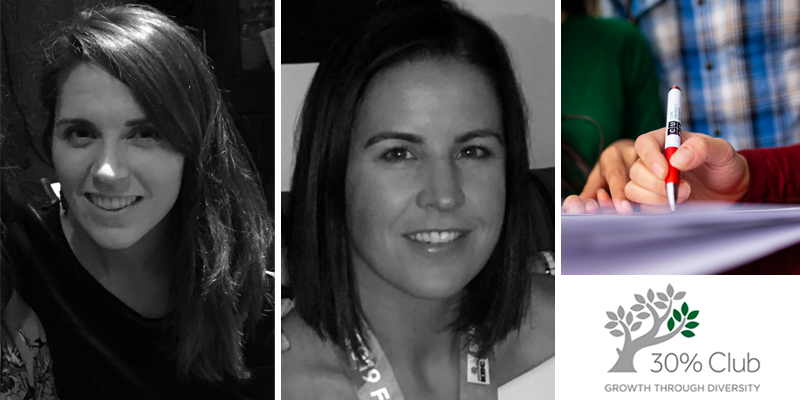 In 2020, Cork University Business School and the 30% Club launched two ambitious scholarships programmes designed to help women take on leadership roles within companies and organisations.
Aimed at women studying the MSc Human Resource Management and MSc Project Management at the Business School, both scholarships offer aspiring female business leaders the opportunity to develop skills and knowledge that will propel their careers.
The Scholarship schemes, which provide 100% tuition fees, quickly began receiving applications from women who were asked to demonstrate how the programmes would help them to secure individual career goals while driving success within their organisation.
For Alice Power, a project manager with Statkraft, the brief immediately resonated her. Originally from Old Parish, in the Waterford Gaeltacht, Alice grew up surrounded by agriculture before going onto study zoology at University College Cork.
Given that I had worked in agriculture, finance and engineering, I spent a lot of time working in male dominated industries.

Although there are a lot of great people working in those industries, it's hard not to notice the lack of female voices. As a result, gender balance is something that I have become passionate about.

As such, the potential offered by the scholarship resonated with me when I first began to learn about the MSc programme.

To receive it is extraordinary. Combined with the MSc, I think that it and it will allow me to plan the next phase in my career.
Similarly, Ciara Magner was drawn to the altruistic nature of the scholarship programme and the wider ambitions of the 30% Club.
As someone who has a decade of experience in a significant multinational setting before becoming Practice Manager with the National Implant Centre, Ciara didn't just want to attain the skills that would allow her to progress her career, she wanted to become an advocate for empowering others and especially empowering women.
When I saw the Scholarship being advertised, I was instantly intrigued. It ticked a lot of boxes for me at a personal level.

The application process allowed me to think about gender balance and my career more generally.

As someone who has come back to education, getting that perspective allows me to shape the direction of my career.

Throughout this, and as I move forward, it is my continued intention to seek new ways of empowering women.
Both Scholarships underscore the collaborative relationship between CUBS and the 30% Club, who also work together to make the CUBS 30% Club UCC Executive MBA Scholarship available to female applicants.
The Scholarship programmes form part of the 30% Club's ambition to increase female representation in executive management positions so that women occupy at least 30% of positions on company boards are held by women.
Given that research has indicated that women in leadership positions were disproportionately affected during the pandemic, the initiatives led by the 30% Club have become increasingly important according to Professor Anthony McDonnell, head of the Department of Management and Marketing at CUBS.
We are delighted to partner with the 30% club to support the advancement of female leaders. While progress has been made over the past decade, there remains a gender gap in leadership positions and Covid-19 has the potential to stall the progress that has been made. These types of initiatives remain vital and we were delighted to award Alice and Ciara these scholarships.
Find out more about the Scholarships and the MSc Human Resource Management and MSc Project Management.