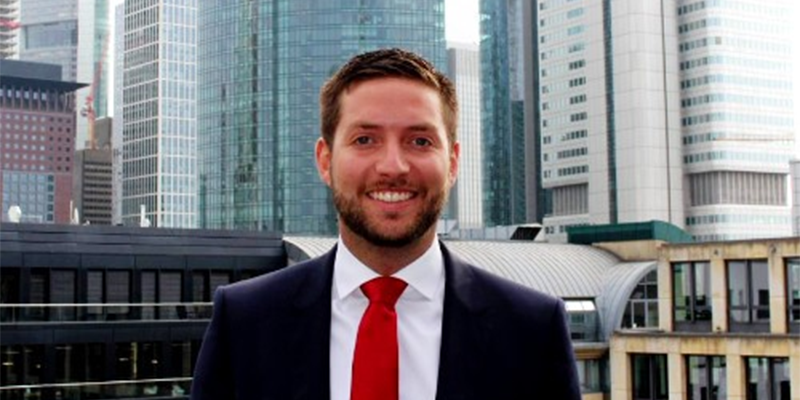 Describing himself as a "natural networker", Pádraig Haughney has an enviable ability to subtly lead conversations in such an engaging way that he prompts follow up questions.
This disarming quality provided us with the opportunity to look beyond his CV, and pay specific interest to the attributes behind his success.
Although our conversation covered much of Pádraig's career, we repeatedly found ourselves referencing, either directly or indirectly, leadership in successful organisations, and how he maximised his ability to take on the responsibilities of leadership in order to achieve personal and organisational success.
While this generated a hugely engaging conversation, we were acutely aware that we weren't just speaking with a graduate of the MSc in Business Economics, but the person charged with implementing FDM Group's Brexit strategy as Head of Business Development Europe.
A fascinating role no doubt, but one which requires an ability to identify opportunity through the provision of pragmatic solutions.
Brexit has created a lot of movement in the market. Many of our clients working in the finance sector in London are moving sections of their organisations to other parts of Europe.

Frankfurt, Dublin, Luxemburg, Paris, and even Zurich, are all going to benefit as a result.

We have operations in each of those locations, and as a consultancy business, FDM Group can work with these organisations to deliver projects that bolsters their presence in those cities.
Adapting to the fluid business environment created by Brexit requires those working in the industry to not only lean on the skills and attributes traditionally associated with economists, but develop more nuanced qualities connected with leadership and strategy.
As someone who engaged in student politics and played a role in the provision of services at University College Cork (UCC) while serving as President the Students' Union, Pádraig had the advantage of possessing these subtle soft skills before joining FDM Group.
During his campaign for Presidency of the Students' Union in 2013, Pádraig mobilised 127 people to canvass support on the weekend of the election. At the time, it was the largest campaign team ever assembled at UCC.
With little experience to fall back on, as President of the Students' Union, he led a team of 15 people at the Students' Union and managed a budget of €600,000.
After the election I was thrown in at the deep end. I found myself managing people, co-operating with local authorities, media, and the University at large.

As President, you also sit on three different boards, which puts a lot of pressure on someone aged 21-22.

Some people react well to it, others don't. I like to think that I left a positive impact, but it was all about leadership.
Later this year, Pádraig's lasting impact will be felt at UCC, when the new Student Hub building is unveiled. As President of the Students' Union, he was instrumental in securing the funds which will have led to its construction.
Surprisingly however, after Pádraig had completed his term as President, he chose not to seek out a position at a major financial institution.
Instead, he joined Martinsen Mayer in 2014, a start-up specialising in in digital and technology recruitment. Although such a move might seem a little uncharacteristic, Pádraig was considering the bigger picture.
Being Students' Union President, dare I say it, I was a big fish in a small pond. At that stage, I didn't want to go into a very large organisation and just be a small fish!

I wanted to be recognised for what I could contribute to an organisation. I felt that going into a start-up was the easiest way of achieving my ambition.

I wanted to stand out, I wanted to outperform everyone in the organisation.

That was my rational for joining Martinsen Mayer.
Pádraig's intuition soon began to pay dividends. Very quickly he found himself assisting the CEO with business development and had grown to appreciate the full scope of how a business operates in the start-up phase.
The experience also provided Pádraig with opportunity to learn from the mistakes that both he and Martinsen Mayer made as well as build on the positive experiences where he saw the importance growth has for an organisation.
That opportunity for personal growth paved the way for a position at FDM Group in 2016, where he could actively deploy the skills he developed as a student studying the MSc Business Economics at CUBS.
FDM are a global organisation, and 70% of our revenue is generated from the finance sector.

In my current role, I work with most of the world's top banks. It's about understanding how the banks work, the institutions of the banks, their economic models, profit and loss margins, how their budgets are allocated etc.

When I go and meet a Chief Finance Officer of an organisation, a Chief Information Officer or a Chief Technical Officer, I can have high level conversations with them about the changes or implementations they are considering. Due to the foundation the MSc in Business Economics provided, it helps me understand the corporate strategy for making these changes or decisions and how best I can support through the services of FDM.
In of themselves, the type of conversations Pádraig holds with these senior office holders demonstrates how the MSc in Business Economics provides graduates with a portfolio of skills that are designed to support business analysis and managerial decision-making.
They also act as a means of completing the circle Pádraig first began to draw in 2012, when he enrolled in the MSc because he saw himself "working in economics while becoming a business leader in a financial institution".