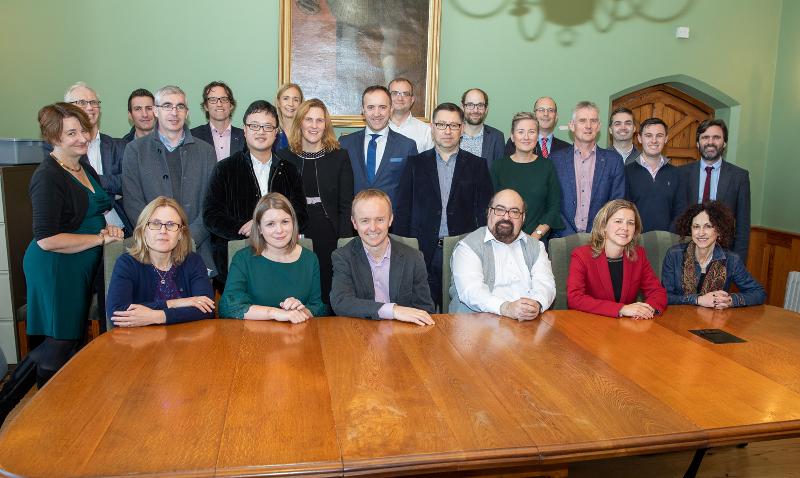 As a forward-thinking research-led business school, Cork University Business School prides itself on pushing boundaries, enhancing knowledge and supporting faculty to deliver cutting edge high impact research.
The environment being fostered by Professor Matthias Beck and the leadership team at CUBS allows researchers to become global thought leaders through the pursuit of scholarly excellence across a number of disciplines.
The CUBS Research Excellence Publication Awards are an opportunity to showcase the achievements of the Business School's outstanding researchers and celebrate their success.
Now in their second year, the number of researchers honoured for their exceptional and influential contributions in globally renowned high impact three and four star journals has nearly doubled from 17 to 32.
This increase demonstrates the breadth of quality research currently being undertaken at CUBS, and it is anticipated that the efforts of those individual researchers will soon manifest itself in an improved international ranking for the Business School.
Publications ranged from Dr Stephen O'Sullivan and Professor Avi Shankar's article, Rethinking Marketplace Culture: Play and the Context of Context, to a collaboration analysing the effect of agglomeration economies on firm deaths in Ireland by Dr Bernadette Power, Dr Justin Doran and Dr Geraldine Ryan.
Not only was each department within the Business School acknowledged, but the research that was recognised demonstrated how CUBS contributes to policy debate.
Writing in The Lancet, Dr Brian Turner discussed how countries could fund research into antimicrobial resistance by investing in the Global Innovation Fund as nations begin to divest from the global fossil fuel industry.
Likewise, Mr Oliver Browne, Professor Philip O'Reilly, Professor Mark Hutchinson and Dr Nenad B. Krdzavac described the design and development of a novel ontology‐based framework to illustrate how ontologies can interface with distributed data sources in an article published in the Journal of the Association for Information Science and Technology.
While Professor Anthony McDonnell, writing alongside Dr Christina McCloskey in the Industrial Relations Journal, explored the approach taken to employee voice in a knowledge‐intensive industry.
The collective and individual efforts of our researchers raise the profile of Cork University Business School as it pursues an accreditation strategy that will see the Business School recognised by the Association to Advance Collegiate Schools of Business.
Already one of the largest recipients of research income among Irish business schools, the CUBS Research Excellence Publication Awards shines a light on the vibrant research culture that exists within the Business School.

Photo credit: Tomás Tyner, University Photographer, UCC