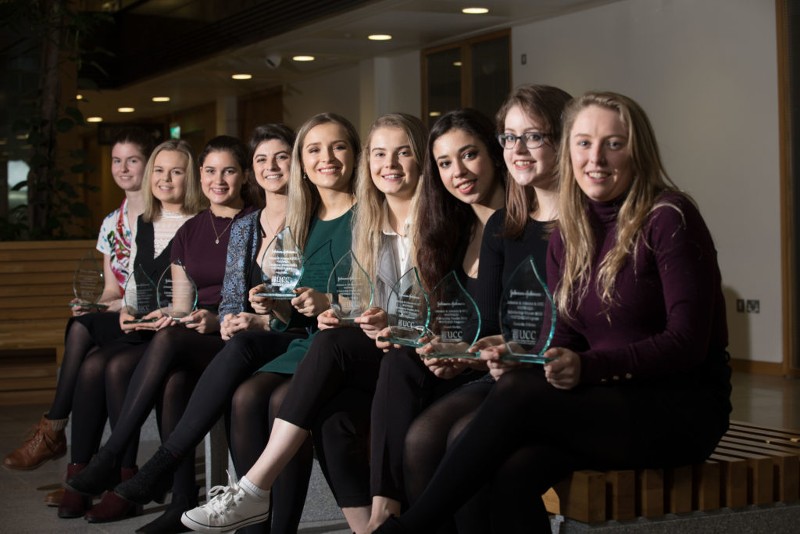 When Johnson & Johnson and UCC announced the launch of the inaugural WiSTEM2D programme in October, 2nd year Business Information Systems (BIS) students Amy Dolan and Michelle Condon were immediately drawn to the opportunities it presented.
Designed to encourage young women to pursue careers in areas such as science, technology, engineering, maths and design, the WiSTEM2D programme chimed with both Amy and Michelle's ambition to work in the IT sector.
With support from BIS faculty, who themselves are looking to promote awareness around women choosing IT related degrees and working in IT as part of their Athena Swan application, Amy and Michelle set to work on writing an essay on diversity and inclusion.
Following an intensive writing process, Amy and Michelle submitted their essay in November and began to prepare for upcoming exams.
To their surprise, the judging panel were impressed by the duo's essay and selected Amy and Michelle to take part in the second stage interview.
Scheduled to take place during study week, Amy and Michelle prepared for an interview process that saw them compete against seven other entries.
Unperturbed, Amy and Michelle once again won over the judges, and earned the opportunity to learn from mentors Aiden O'Brien (Acting Operations Manager at Janssen Biologics) and Tim Hodgkinson (Data analytics & visualization lead at Johnson & Johnson) respectively.
With the exams now behind them, Amy and Michelle are looking forward to applying what they learn from their mentors in the classroom and understanding what a career in information systems could look like.
Only for our lecturers we wouldn't have applied for the WiSTEM2D programme. They encouraged us from the start. From career development to providing learning opportunities, there are so many benefits to the programme. We can't wait to get started.
For Dr Ciara Heavin (Lecturer in BIS), Amy and Michelle's success can inspire other young women studying BIS to apply for similar programmes in future.
"WisTEM2D and similar programmes are fantastic opportunities for students to further develop their skills and their professional networks before they complete their degrees. It also provides them with rich knowledge about the breadth and diversity of potential IT careers".
BIS is applying for a Bronze Athena Swan award this April, BIS is committed to supporting our students in their professional development and career advancement. Find out more here.