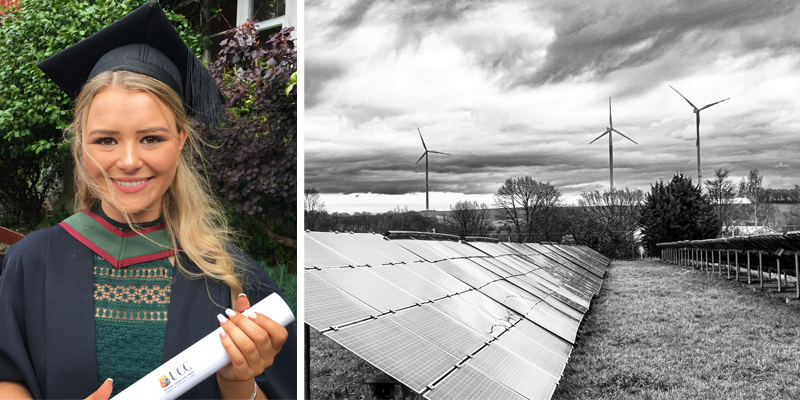 During her final year studying Commerce and Spanish at Cork University Business School, Caoife De Hora began the process of exploring postgraduate programmes that would allow her to pursue a career in a sustainable industry.
Coming from an agricultural background, Caoife had a natural interest in the development of sustainable models and practices that could stimulate rural economies.
As such, Caoife was instinctively drawn to a lecture in which Dr Noreen Byrne and Dr Olive McCarthy discussed the future of agriculture and how co-operatives can play a role in creating sustainable economies.
That lecture encouraged Caoife to seek out information on scholarship opportunities and ultimately apply to enrol in the MSc Co-operatives, Agri-Food and Sustainable Development.
Soon after being accepted onto the programme by Dr McCarthy and Dr Byrne, Caoife successfully applied for an FDC Group Scholarship.
I have always been interested in sustainable agriculture, but I never really had the opportunity to study it until my final year when I signed up for a 10 credit module on sustainable development under Dr Carol Power.

That's what motivated me to look at the MSc and to reach out to Dr McCarthy and Dr Byrne.

They made me aware of the FDC Group Scholarship, which, looking back on it now, made up my mind.
Although Caoife found elements of the transition from undergraduate to postgraduate study a little challenging at times, the small but close-knit nature of the class made it easier.
Very quickly, bonds were formed between people from diverse backgrounds and disciplines, who began to work together on projects and assignments.
It was a bit strange at first. As an undergrad, your goals can be very immediate. I studied a language, so I was always working on exercises after lectures on top of preparing for exams and making deadlines.

The postgrad is different, in that it's geared toward your placement and research project.
As an FDC Group Scholar, Caoife is working with Dingle Hub to investigate whether or not communities can employ the co-operative model to build and manage an anaerobic digester.
Given the nature of the project, which looks at how communities could create sustainable energy to power and heat homes, Caoife has invested a great deal of time and energy to it.
However, her efforts are already paying dividends. Despite having not yet graduated, or even completed her research project, she was recently offered a position at a green energy company.
Although I have always wanted to work in the sustainability space, I never thought that it would be in green energy.

It's an exciting role and a great opportunity for me. They were looking for someone with a background in sustainability and business, which I saw as being a combination of my undergrad and postgrad degrees.

They said that the MSc and my research project gave me an edge, which is a real endorsement of the programme.