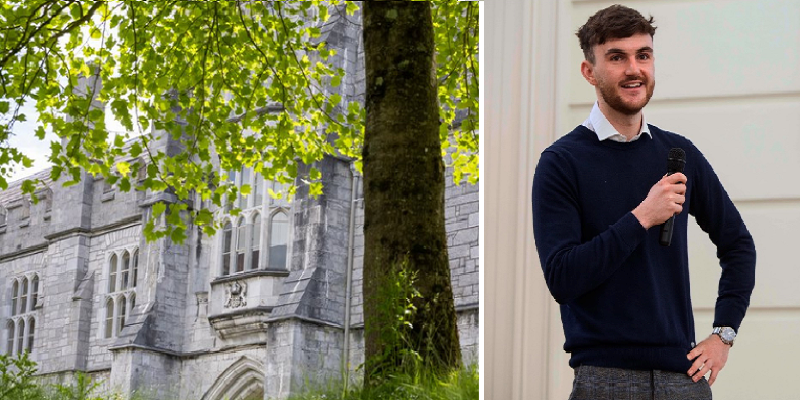 A talented and passionate classical musician, Robert Murphy enrolled in the MSc Management and Marketing at Cork University Business School after Covid restrictions limited his capacity to perform.
Although Robert had worked in the insurance industry for a period while studying at the Cork School of Music, he had never seen the world of business through an academic lens.
As such, coming to UCC represented a significant change in how Robert approached learning.
Transitioning from music to business proved challenging at times. They are two totally different learning environments.

Throughout my time studying music performance at the Cork School of Music, I spent a lot of time either practicing the cello by myself, receiving lessons from my teacher, or taking part in chamber music and orchestral rehearsals.

While there were lectures and assignments as part of the course, most of my time was centred around practicing by myself and performing on stage.

At CUBS, I was completing many individual assignments, taking part in group projects, as well as spending hours pouring over notes for continuous assessments in the library. It was a very different learning environment to what I was used to but it was a challenge which I embraced right from the start of the year.
Although Robert did face some challenges, he was also able to deploy a lot of the skills and techniques that he developed while studying music.
His attention to detail and ability to study independently allowed Robert to overcome the obstacles that he faced during his first few weeks at CUBS.
As a musician, you quickly discover that the learning process never ends.

Learning and performing music is an iterative process that lends itself to small incremental improvements. It takes a lot of self-discipline, which I subsequently discovered is a transferable skill to many other disciplines outside of music.

I think I began to learn how to employ that discipline once I got a feel for the course and I'm figuring out how to maximise it while on placement with Starcircle.
Given Robert's relatively limited exposure to the world of business, the placement component of the programme was key in his decision to enrol in the MSc Management and Marketing.
Confident in his own abilities, Robert knew that if he could gain valuable experience in a real-world business environment, he would be able to construct an impressive CV that would win the attention of leading employers.
Companies all over the globe are grappling with the challenge of finding talent in the post pandemic world. Starcircle helps scaling and ambitious companies overcome those complex hiring challenges by giving them access to pipelines of undiscovered talent. The Starcircle expertise lies in their ability to help their clients overcome seemingly impossible talent challenges.
Starcircle helps some of the world's best-known companies such as Doordash, Amazon, Google, and Cisco, to find talent for even the most difficult to fill roles. The opportunity to work with Starcircle, who are providing such a business critical service right now was very attractive to Robert.
The placement component of the course was a very attractive prospect for me. It was what differentiated the programme from courses at other universities that I was looking into'.

My time with Starcircle has been a really positive and insightful experience. Not only have I had the opportunity to develop the necessary tools and skills to build upon a successful career in recruitment as a Talent Advisory Consultant.

I have recently received a promotion to the growth team where I have taken on a role as a Business Development Executive. This new role involves driving new business leads as well as building and managing relationships with prospective clients.

Getting that kind of hands-on experience and responsibility has been extremely valuable. Everyday I am being trusted with new responsibilities, which also demonstrates just how much companies like Starcircle invest in graduates entering the professional world.
Now three months into his six-month placement, Robert is determined to leave a lasting impression at Starcircle by making his unique skills and talents available to the management team in his role as a Business Development Executive. In doing so, Robert hopes that he can continue to excel and build the foundation for a successful career in business.
Ciara Byrne, Chief Marketing Officer on Robert's impact on Starcircle:
Robert has been a fantastic addition to the Marketing Team. He has worked with us for the past six months on a variety of projects that are key to Starcircle's revenue growth in 2022. As someone who has mentored a lot of interns, I always like to give them a variety of tasks to assess where they are best fit. Robert has excelled in all tasks

I have given him and when we were making a change in our business development it was a no brainer to ask Robert to help me set this up. The team has enjoyed working with Robert and we have enjoyed helping him acquire a love for all things revenue related.

The calibre of interns Starcircle has received from the MSc Management and Marketing at Cork University Business School has been of a very high standard.