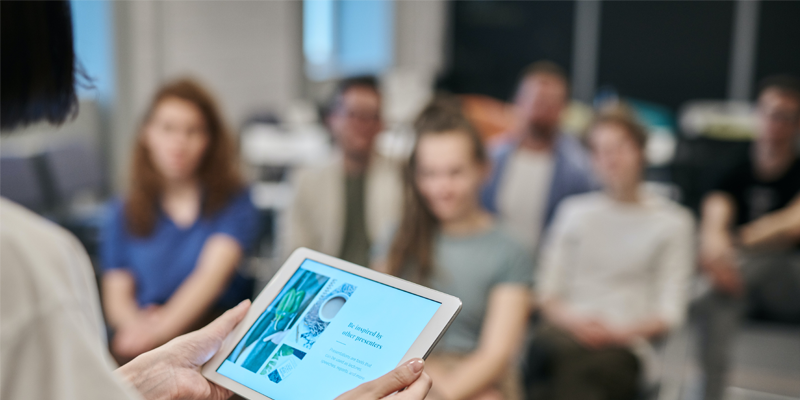 As part of Cork University Business School's commitment to supporting students through the pandemic, a seminar series ran throughout the autumn semester and the CUBS annual Postgraduate Research Symposium moved to a virtual event format.
Designed to showcase the cutting-edge research being undertaken by postgraduate students at CUBS, this year's symposium saw 18 speakers deliver 15-minute papers across four themed panels.
Timely and informative, among the topics discussed at the research symposium were entrepreneurship, regional innovation, sustainability and organisational culture.
Speaking after the event, Professor Stavroula Leka, Director of Postgraduate Research at CUBS, said that "we aimed to create multidisciplinary sessions showcasing how CUBS researchers approach broad thematic areas while at the same time promoting further inter- and multi-disciplinary research".
The annual event, which is organised in collaboration with the CUBS Postgraduate Research Committee, provides a mechanism to support students, and their supervisors, and develop high-quality research.
This year, the symposium also acted as a platform for Dr Sean Lucey to describe how postgraduate research aligns with the College of Business and Law Research Strategy, and for Professor Mathias Beck and Dr Ioannis Skevas to discuss publication strategies with students.
Apart from promoting postgraduate research, the symposium typifies the range of study being undertaken at the Business School. A facet highlighted by the contrasting nature of the studies being pursued by winners of the best paper award - a prize that was split between Mary Brennan and Chris Moran this year.
Mary's research seeks to develop a composite animal welfare index to determine whether or not recent dairy farm expansion has adversely impacted standards of welfare to see if trade off's exist between welfare and additional sustainability indicators.
Chris, meanwhile, is investigating the nature of the sustainability attitude-behaviour gap to uncover the realities of environmental behaviours of 'fringe' consumers by exploring the role of cognitive dissonance as a mediator of sustainability related attitudes, social norms and behaviours.
The quality of the research being undertaken at CUBS is reflected in the number of scholarships now being made available to postgraduate researchers. The most recent of which saw three PhD students offered doctoral scholarships to work on interdisciplinary projects, following a generous philanthropic donation earlier this year.
Additionally, the Business School has been successful in securing two UCC employment-based PhD scholarships to enable full-time professionals to engage in research that will have significant real-world impact.
CUBS faculty are also working creatively to support postgraduate students in the current climate by delivering a wide ranging seminar series which covers an array of topics, including; coping with the stress associated with postgraduate study, and understanding the economic and social impact of research.