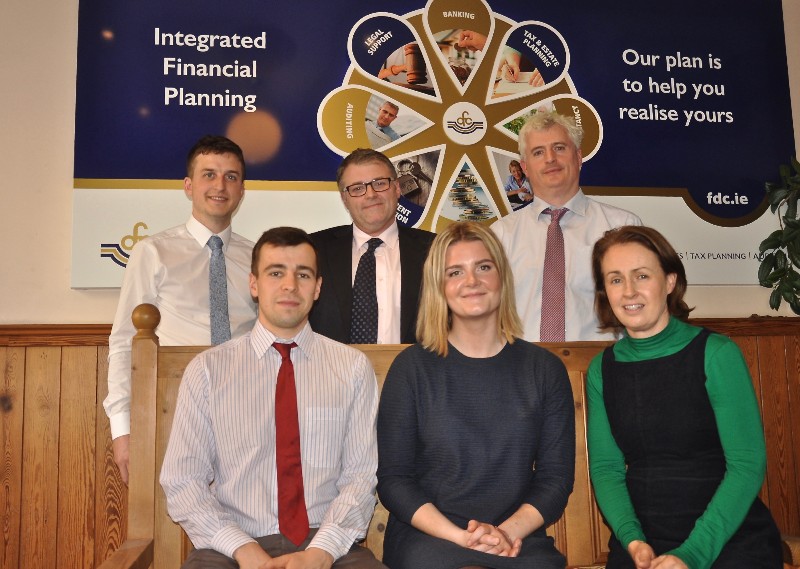 Recipients of the inaugural 'Jack Murphy Scholarship', provided by the FDC Group, met with their mentors earlier this month at the FDC Group Cork HQ.
Specifically aimed at students from Cork University Business School's MSc Co-operatives, Agri-Food and Sustainable Development, and MSc Management and Marketing, the programme provides successful applicants with a scholarship valued at €12,500, along with a guaranteed five-month placement opportunity within the FDC Group.
Developed in conjunction with CUBS programme directors Dr Olive McCarthy and Michael Murphy, the 'Jack Murphy Scholarship' was established after FDC Group senior managers witnessed at first hand, the contribution made by students on placement within the company.
MSc Management and Marketing students, Andrea Piackova and Rory O'Mathuna, have the honour of becoming the first recipients of the 'Jack Murphy Scholarship', which the FDC Group have committed to funding by €250,000 for a total of five years.
As part of the application process, both Andrea and Rory identified an important issue facing rural Ireland, proposed a concise strategy to address it and sat an interview opposite two FDC Group directors and Professor Thia Hennessy, Dean of Cork University Business School.
Now being respectively mentored by Tony Miller, Group Head of IT, and Liam Hennessy, Agri-Consultant, Andrea and Rory have been granted stimulating placement opportunities at the FDC Group, who employ over 300 staff across 30 locations.
By its very nature, the MSc Co-operatives, Agri-Food and Sustainable Development aligns with the FDC Group's ethos by providing students with the skills needed to make innovative contributions to the development of local economies.
The MSc Management and Marketing offers students from a variety of academic backgrounds the opportunity to pursue a career in a wide range of business environments with a focus on management and marketing, and also offers an industry-focussed work-placement opportunity.
Suzanne Dennehy, Operations Manager for the FDC Group, will be giving a presentation on the Jack Murphy Scholarship opportunities for next year, as part of the Information Evening for the MSc Management and Marketing