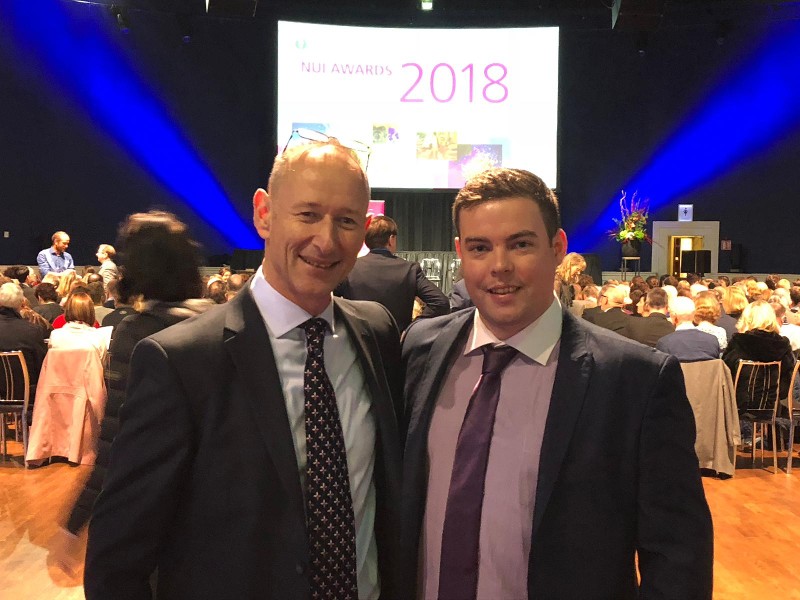 Designed to meet the needs of industry, the MSc in Innovation in European Business (IEB) provides graduates with the tools to understand and manage dynamic organisations.
Through a series of modules organised around the innovation cycle, and an engaging placement component, graduates are equipped with the knowledge and practical skills to make an immediate contribution as change agents in industry.
In many cases, graduates demonstrate this potential to such an extent during their placement that they are offered positions soon after completing the programme. David Meaney is one such graduate.
It all happened so fast. As class rep, I was asked by Dr Fergal Carton [Programme Director] to circulate a list of placement opportunities among the group.

As a dynamic start-up, Swyft Energy immediately stood out to me as an interesting place to gain experience.

After a quick exchange of emails with Co-Founders Adrian Casey and Joseph Freyne, I could see the potential for personal growth and professional development.
Unknown to David at the time was the reciprocal relationship that exists between Swyft Energy, Dr Carton and Professor Fred Adam.
As himself a graduate of the MSc in Innovation in European Business, Joseph Freyne fully appreciates the calibre of the programme and the role it played in providing him with the skills to make a success of Swyft Energy.
As such, Joseph wanted to repay CUBS and the programme by offering to take on a student as part of the MSc's immersive work placement module.
Unperturbed, David prepared for the second semester of the programme at the Institut Supérieur du Commerce de Paris (ISC Paris), safe in knowledge that he had secured a placement position that would allow him put theory into practice.
The programme doesn't just provide you with an international perspective on business management and innovation, it allows you apply what you learned in the classroom during the placement module. That's where the real value is.

After returning from Paris in March 2018, I couldn't wait to get started at Swyft Energy. It was real opportunity for me.
Over the course of the six month placement, David's enthusiasm came to complement the dynamism associated with the budding start up.
From the outset, David took it upon himself to embrace the opportunities presented by Swyft Energy. However, working at a start-up meant that he would need to be flexible and demonstrate an ability to marshal skills that corresponded with tasks that arose in quick succession.
From the outset, David found himself assisting with every aspect of the business. During the five month placement, he didn't just find himself involved in day-to-day activities, very quickly David was assisting with marketing and sales support, fostering B2B relationships, and contributing to the company's strategic vision.
I didn't just want to use the placement to educate myself, I wanted to make a positive contribution.

When I first spoke with Adrian and Joe, I told them that I wanted to help them grow the business in any way that I could. They reciprocated by throwing me in at the deep end.
After completing the placement module, David travelled to HU University of Applied Sciences in Utrecht (HU) to write his thesis during the final phase of the programme.
Although research represented a change of pace, the knowledge David had accumulated during the preceding months enabled him to critically evaluate business problems and offer evidenced based solutions.
However, before David had even submitted his thesis, he was already considering job offers from a number of companies.
Although such opportunities came as a welcome distraction, David was committed to completing his research before accepting any offers. Nevertheless, once Adrian and Joseph called him, David couldn't turn them down.
Once Adrian and Joe contacted me, my mind was made up. They offered me a role that expanded on what I had been doing during my placement.

As a Business Analyst, I now coordinate projects ranging from IT to marketing. To be involved in a company that is experiencing huge growth is massively exciting.

I'm grateful to the guys for having such faith and trust in me. Now I want to repay them by helping to grow Swyft Energy in the years to come.
Now a member of the programme's extensive alumni network, David has worked to deepen the relationship between Swyft Energy and the MSc in Innovation in European Business, by assisting two more students attain placement opportunities in the company in 2019. Both the MSc IEB programme team and CUBS look forward to collaborating with Swyft Energy in future, supporting Adrian, Joseph and David with research output and graduate talent in the years to come.