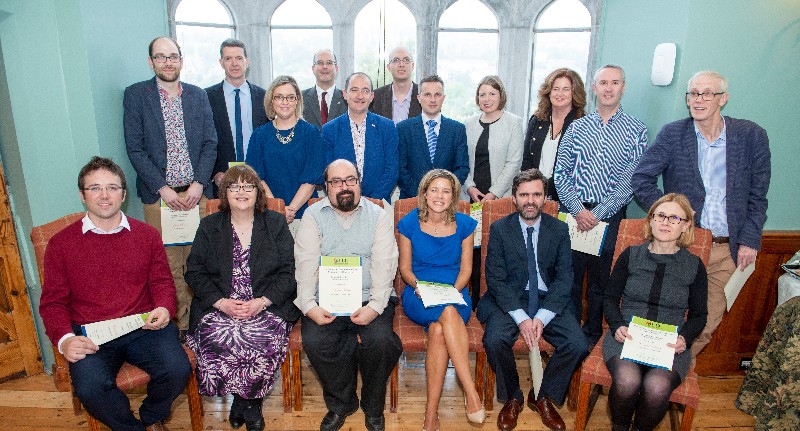 As a forward-thinking research-led business school, we pride ourselves on pushing boundaries, enhancing knowledge and supporting faculty to deliver cutting edge high impact research.
The environment we are fostering at Cork University Business School in UCC, allows our researchers to become global thought leaders through the pursuit of scholarly excellence across a number of disciplines.
The College of Business and Law Research Excellence Publication Awards are opportunity to showcase the achievements of our outstanding researchers and celebrate their success.
In all, 17 researchers were honoured for their exceptional and influential research contributions in a number of globally renowned high impact journals.
The award winners represented each department within the Business School and demonstrated the breadth of research currently being undertaken at CUBS.
Indeed, publications ranged from Dr Robert Gleasure's investigation into how new emotion-sensing technologies can help employees make better decisions, improve concentration, and adopt healthier and more productive work styles, to Dr Robert Butler's study detailing Clément Juglar's opposition to the colonisation of Algeria published in the leading Journal of Institutional Economics.
Also among those to receive awards were Dr Brian Turner and Professor Thia Hennessy, whose respective articles, "Putting Ireland's Health Spending into Perspective" and "The Effects of Direct Payments on Technical Efficiency of Irish Beef Farms: a Stochastic Frontier Analysis", demonstrate how the ongoing research at CUBS contributes to contemporary public debate.
Publications in emerging research fields such as sports economics were also celebrated through Dr Declan Jordan's article titled "The Effect of Geographic Proximity and Rivalry on Performance: Evidence from the English Football League" and Dr John Eakin's "The Determinants and Income Elasticities of Direct and Indirect Sports Expenditure Categories".
The collective and individual efforts of our researchers raise the profile of Cork University Business School as it pursues an accreditation strategy that will see it recognised by the Association to Advance Collegiate Schools of Business.
The CUBS Research Excellence Publication Awards shines a light on the vibrant research culture that exists within the Business School.