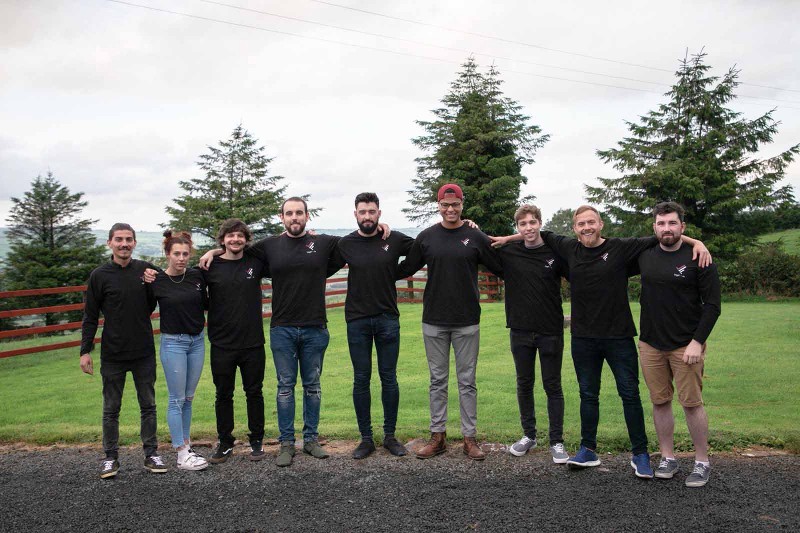 In today's dynamic work environment, there is a growing number of people working in fields not directly associated with the discipline in which they graduated.
Perhaps it's a symptom of the knowledge economy where skills are transferable and real world experience can be applied across a range of specialisms.
Today, the ability to be agile, learn quickly and adapt to rapidly changing environments are all key skills and pertinent to Ryan O'Neill's entrepreneurial journey.
A pharmaceutical sciences graduate, who found himself looking at alternative career choices after coming to the realisation that the pharmaceutical industry was not for him, Ryan set his sights on building his own fitness business.
After initially flirting with the idea of working as a personal trainer, and even completed a training programme to get a foothold in the industry, Ryan turned his attention toward developing a technological solutions that would alleviate some of the obstacles face by independent gym owners.
I noticed that there were a lot of independent trainers working for bigger companies who wanted go out on their own, but they needed something that would take care of the admin side of any potential business.

So I came up with this idea to develop a platform that would make it easier for customers to book or find fitness classes.

I pitched the idea as being like an Air B&B for the fitness industry to Gearoid Collins, who joined me as a co-founder alongside Lucas Sacramento.

We then approached Ian O'Sullivan, a fitness professional, and that's how we got started.
Armed with the idea, Ryan and Ian pitched the concept to Eamon Curtain at Ignite, who accepted them onto the business incubation programme at UCC.
While the Ignite programme encouraged the Legit Fit team to really start thinking about their start-up, Ryan understood that he would have to address his lack of business knowledge if he was to maximise the potential of the company.
After researching a number of different programmes, Ryan came to the conclusion that the MSc Management and Marketing at Cork University Business School would provide him with the necessary knowledge and skills.
To put it bluntly, I needed to gain an understanding of the business world.

Within the MSc, I found the psychology behind management hugely interesting. The lecturers introduced me to different types of organisational and leadership topics that I have taken on board to build Legit Fit.

More recently, I have begun to lean on the marketing elements of the programme as we bring our product to market.
Fully enrolled as an MSc student, Ryan now faced the challenge of trying to establish a business while studying full time.
Although it was posed a number of unique challenges, the lecturers offered their support by providing Ryan with the opportunity to use Legit Fit as a case study in two separate assignments.
This allowed him to conduct further market research and to crystallise his thinking around the concept for the business.
Starting a business and an MSc at the same time was tough. There were a lot of early starts and late nights, but I learned a huge amount by combining the two.

The directors of the MSc were very supportive, even going so far as to give me some bandwidth on projects because of how busy we were becoming at Ignite.

That kind of support gave us the space to build a business from the ground up. The knowledge they imparted allowed us to consider our model and redesign it to meet the needs of the market.

Eamon Curtin was amazing too. He had a huge impact on us and his door remains open, despite us having left the Ignite programme.
Ryan and the Legit Fit team brought their product to market in March, and are gaining traction within the fitness industry.
Now growing to meet demand, the company has acknowledged the contribution made by Thomas Hunt, Chris O'Connor and Johan Quiroz, who joined the Legit Fit as interns, by offering them roles within Legit Fit. For Ryan, this is significant, because without their energy and impact, the business would not have been able to expand so rapidly.
Since launching their product in March, the Legit Fit have reached 100 customers. To put that in perspective, originally, the team had hoped to hit €100k in platform bookings by the end of this year, however they now expect to hit €350k.
The company's success has not gone unnoticed either. Earlier this year, Ryan's tireless efforts were rewarded when he was listed among the Sunday Independent's 30 under 30 list of budding Irish entrepreneurs, propelling the business onto the national stage.
The success of Legit Fit has allowed Ryan and the team to think big and entertain ideas that might have been remote only a short time ago. Nevertheless, Legit Fit's ambition remains the same – "to make it easier for people to get into fitness and stay in fitness".
Ryan will be speaking about the success of the Legit Fit at the CUBS Conference in March 2020.