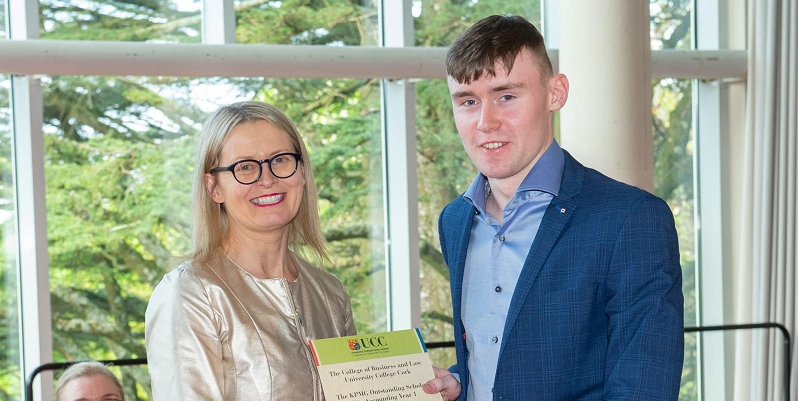 Rory O'Connor enrolled in the BSc Accounting at Cork University Business School after taking a year out to investigate a variety of business programmes and to build his professional skills at Fexco.
Now in his second year, Rory has excelled in the programme, becoming one of four recipients of the prestigious KPMG Outstanding Scholar Prize.
I knew that I wanted to study business at college, but I didn't really know what programme or specialism to pursue.

My father is a chartered accountant, and my brother is studying Finance at CUBS, so I was caught between both stools.

Taking a year out after my leaving cert to work in Fexco really helped me to weigh up my options and come to CUBS with a mature outlook.

Now that I have been awarded the KPMG Outstanding Scholar Prize, I'm delighted that I took the time to make up my mind.
Despite taking a year out, Rory quickly picked up where he left off as a leaving cert student, rekindling his existing knowledge and learning the skills being imparted by the BSc Accounting's expert faculty.
Although Rory was initially apprehensive about re-engaging with the subject, he found that the lecturers took the time to introduce students to the fundamentals of accountancy before moving onto more complex concepts.
During the early modules, we spent a lot of time going over the basics before being introduced to more difficult problems.

The lecturers ensured that each of us had a strong foundation by reinforcing what we learned during the leaving cert.

For me, having taken a year out, that was fantastic. At no stage did I feel that I was struggling or under pressure.

Having those basic principles gives you the platform to move onto more complex modules in second year.
Having excelled during his first two years studying the BSc Accounting programme, Rory was awarded a KPMG Outstanding Scholar Prize following a competitive process that began in December 2021.
I didn't know what to expect when I first applied for the Prize. Like everyone else in our year, I received an email inviting me to apply.

As part of the process, we were asked to submit a 500-word essay. Fortunately, I was one of the students shortlisted for an interview and to subsequently receive the Prize.

As part of the prize, I have just started with KPMG on a summer internship programme. To get this kind of experience so early in my career is great.

Because I'm unsure about whether I'd like to go straight into a grad programme after I compete the BSc Accounting or work toward a Masters at CUBS, I'd like to think that the experience will help me to make a considered decision.