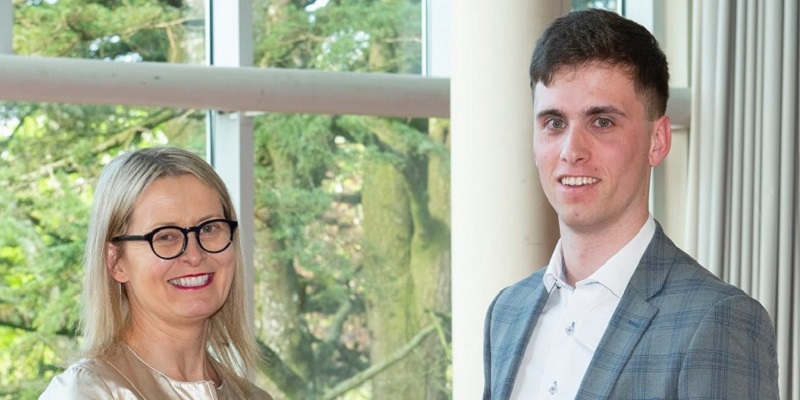 Kieran Murphy, one of four recipients of the prestigious KPMG Outstanding Scholar Prize, choose to study the BSc Accounting at Cork University Business School as it offers exemptions from the CAP1 exams.
Possessing a clear vision, Kieran has been able to identify a route through the programme that will grant him the key exemptions to accelerate his career once he graduates.
Because I studied accountancy for my leaving cert, and I was always going to study the subject at university.

CUBS was the obvious choice for me because it offers so many exemptions to graduates who want to break into the field.

The lecturers also have a huge amount of practical experience and provide you with real world insights and describe how knowledge is applied in business.

Because you can see how the course material is being applied in industry, that really helps when you go out on placement. You get really get to see how relevant the course is.
Now that Kieran is coming to the end of his six-month placement with KPMG, he has identified which branch accountancy he'd like to work in after he graduates.
Since January, Kieran has been working in KPMG's audit department alongside experienced accountants who have offered welcome advice on how he might progress his career.
Because I was fortunate enough to receive a KPMG Outstanding Scholar Prize, I didn't have to worry about preparing for placement interviews in September.

Having that time allows you to look at the bigger picture. For me, it meant that I was to begin to prepare for my placement at KPMG and to consider how I might go about securing my chartered accountant exams in future.

In that sense, my placement with KPMG has been really helpful. Apart from the hands-on experience of working in the audit department, I was able to talk to my mentors and managers about the different paths toward becoming a chartered accountant.
As he comes to the end of his third year at CUBS, Kieran has his heart set on taking the direct route toward becoming a chartered accountant.
In practice, this means that Kieran hopes to secure the best result possible in his final year exams so that he can enter a graduate programme with a leading firm like KPMG.
This he hopes, will allow him progress toward completing profession's CAP 2 and subsequent FAE exams, before ultimately becoming a chartered accountant.