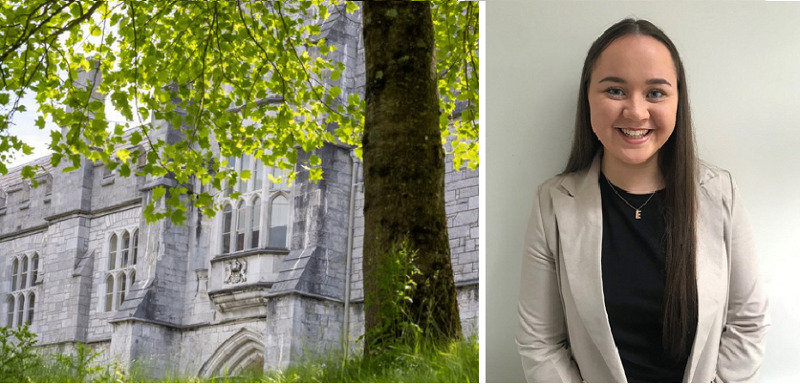 A lover of maths and numbers, Emma Finn decided that she wanted to study accountancy while on placement at a local firm during transition year.
Attracted to the idea of exploring accountancy through a wide variety of business-related modules, Emma was drawn to the possibilities offered by the BSc Accounting at Cork University Business School.
I loved all the modules that we were being introduced to in first year. The variety of what we were studying really spoke to what I researched about the programme.

Apart from studying accounting, we were also exploring law, economics, statistics and data analytics in first year.

Being exposed to subjects outside accounting is what makes the programme really interesting.

It also means that I'll have a rounded skillset after I graduate, which is something that employers do value.
By embracing the diverse nature of the programme, Emma positioned herself to successfully apply for the prestigious KPMG Outstanding Scholar Prize.
The ability to communicate her broad industry knowledge, combined with the specialist education that she had been receiving from the expert lecturers tasked with delivering the BSc Accounting, meant that Emma was able to submit an engaging application.
To be offered the KPMG Outstanding Scholar Prize was special. I didn't really expect to receive the prize when I applied.

It validates a lot of the work that I have been doing. As part of the scholarship, I was also given the opportunity to do my work placement with KPMG.

That alone removes a huge amount of pressure, because I didn't have to spend a lot of time applying for placement positions or preparing for interviews.

Securing the prize meant that I could focus on my studies and prepare for my placement in January.
Now coming to the end of her six-month placement with KPMG, Emma believes that the experience of working in one of the Big Four accountancy firms will bring long term benefits.
Working in KPMG's audit department, Emma quickly began to discover how she could apply her classroom knowledge in a professional environment.
I have spent much of the last six months working in KPMG's audit department. The entire experience has been brilliant.

In the role, I got to see how our course work is practically applied. I also got to work alongside people who were dealing with very different clients in the audit department.

Learning and getting advice from them has been incredible. I'd love to secure a graduate position within a firm like KPMG after I graduate. I couldn't recommend the experience highly enough.