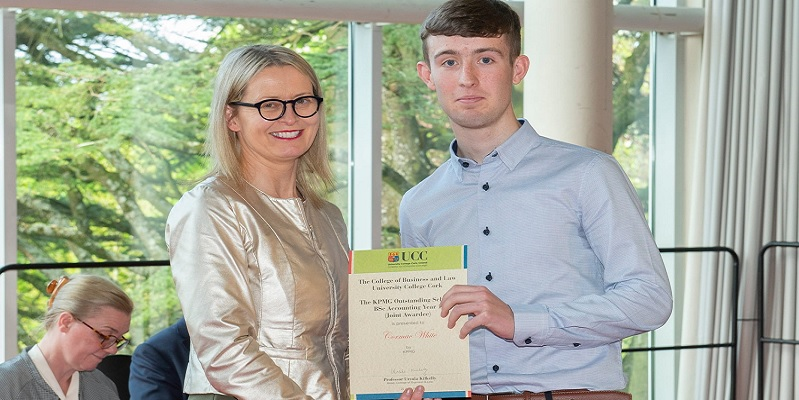 Cormac White, one of four recipients of the KPMG outstanding scholar prize, has excelled as a student since enrolling in the BSc Accounting at Cork University Business School.
Originally from Tralee, Cormac enrolled in the programme after study business in his leaving cert. Although he hadn't explicitly specialised in accounting, he felt comfortable in the discipline after coming to CUBS.
While I was a little apprehensive about studying a specialised accounting course, the lecturers have designed the programme in such a way that you really start with the basics and build from there.

It is also a well-rounded programme that includes modules on law, statistics and information systems.

Those modules have really helped me since I joined KPMG as part of the KPMG Outstanding Scholar Prize.
The possibility of securing a scholarship or an award like the KPMG Outstanding Scholar Prize is what initially attracted Cormac to CUBS.
Having taken a year out following his leaving cert, Cormac spent quite a bit of time investigating various business and accountancy programmes, as a result, he understood how the BSc Accounting would enable him to maximise his potential.
I looked at a lot of business and accountancy programmes during my year out. CUBS always stood out to me because of the number of scholarships that are available.

I was also aware of the relationships CUBS has with the business community, particularly with KPMG and the big accountancy firms.

So, even if I didn't win the prize or a scholarship, I knew that I would have a chance of securing a placement with one of the big 4 accountancy firms.

Getting that kind of practical experience really appealed to me when I was weighing up my options.
As part of the prize, Cormac will receive the practical experience that he craves while working in the audit department in KPMG.
This, Cormac anticipates, will allow him to gain a clear understanding of what it means to work for a company like KPMG so that he can make informed decisions about his career.
From speaking with people that work in the field, my preference would be to work in an audit department.

From the course work that we have completed so far, audit is something that really interests me.

My summer internship with KPMG will allow me to explore audit in a practical sense. That experience should help me to confirm whether audit is where I see my self working after I graduate.

Because I'm still very much undecided about whether to do a postgraduate course at CUBS or earn professional qualifications through a company like KPMG, I hope that the placement will also allow me to make an informed decision about my post graduate options.