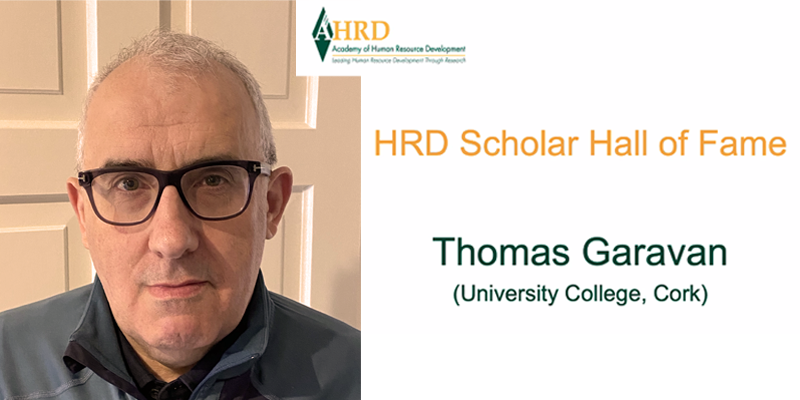 CUBS leadership expert, Professor Thomas Garavan, was inducted into the Academy of Human Resource Development's (AHRD) Hall of Fame before the organisation's annual conference on February 6.
Professor Garavan is recipient of the HRD Scholar Award 2013, the Richard Swanson Research Excellent Award in 2015 and 2019 for best papers in Human Resource Development Quarterly, the Edward Holton Research Excellence Award in 2019 for best paper in Human Resource Development Review and the Monica M Lee Award for Best Paper in Human Resource Development International in 2018 and 2020. Professor Garavan has for over 30 years been at the forefront of HRD and HRM research. Throughout his distinguished career, Professor Garavan has engaged in multi-disciplinary research and studied in an array of different fields. He has accumulated over 15,000 Google Scholar citations and had graduated 38 PhD students many of who are now leading academics in Irish and international universities.
Originally a graduate of Kemmy Business School, Professor Garavan went onto to study law at NUI Galway, philosophy at Mary Immaculate College, and completed a Doctorate in Education at the University of Bristol.
Professor Caravan's editorship of the European Journal of Training and Development and associate editorship of Personnel Review attests to his reputation as global leader the field of human resource management and development.
A facet underscored through his membership of the Editorial Board of Human Resource Management Journal, Human Resource Development Quarterly, Human Resource Development Review, Advances in Developing Human Resources, The International; Journal of Training and Development, Human Resource Development International. He is currently on his second term as a Board member of the Academy of Human Resource Development.
In 2019, Professor Garavan delivered a masterclass at the UCC Centre for Executive Education, where he spoke about the significance of learning and development within organisations.
The masterclass, which was hosted in partnership with the Irish Institute for Training & Development, described how organisations are increasingly making major investments in developing employee knowledge, skills and abilities.
The AHRD Scholar Hall of Fame Award is presented to scholars in human resource development and related disciplines who have made enduring contributions to the Academy's mission of Leading Human Resource Development through Research.
To- date, only 16 scholars have been inducted into the Hall of Fame by the AHRD Board.