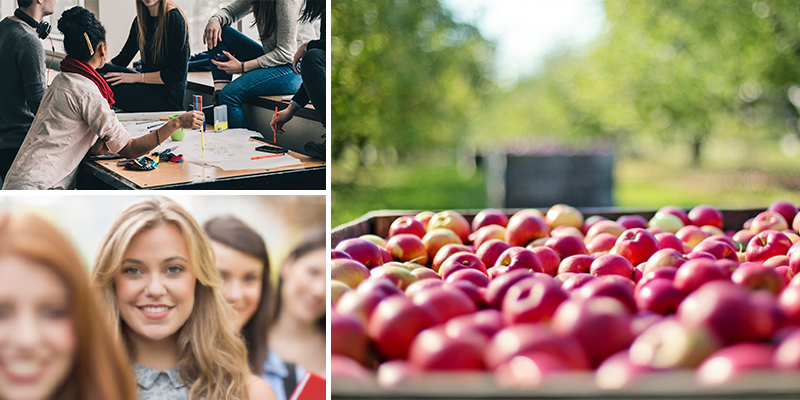 The relationship enjoyed by Cork University Business School at UCC and Musgrave is both mutually beneficial and long established.
Musgrave is the leading food retail, wholesale and food service business across the island of Ireland with a host of well-known brands like SuperValu, Centra, Donnybrook Fair, and MarketPlace.
Through the brands, Musgrave feeds one in three people every day and is committed to supporting the Irish food industry. Musgrave engages with the Business School on a variety of projects, many of which extend beyond the commercial sphere.
Working in collaboration, earlier this year, Teagasc, Musgrave and CUBS, staged the Inaugural Musgrave Guest Lecture on Food Authenticity as part of a research project titled "Protecting Irish Agri-food Chain Integrity".
The lecture, which drew much attention and praise, also saw the launch of a 4-Year PhD fellowship, funded by the Teagasc Walsh Fellowship and Musgrave, designed to better understand and protect food supply chain integrity.
Such collaborative projects and initiatives cement what is an already deep-rooted relationship, particularly in the areas of food and business, where Musgrave provide multiple placement and employment opportunities for students and graduates.
Indeed, the placement opportunities offered by Musgrave resonate with the Business School's ambition of delivering industry focussed programmes that are responsive to the demands of both students and the market.
That means providing graduates with digital skills that can help transform the customer experience and hasten an organisation's digital transformation through the knowledge and expertise imbued by programmes such as the MSc Design and Development of Digital Business, MSc Strategic Marketing and Practice, and MSc Management and Marketing.
As Mike Murphy, Programme Director of the MSc. Management and Marketing, explains, the cutting-edge skills and insights acquired during these placement modules provide students with opportunities for both personal and professional growth.
"We are delighted with the strong relationship we have developed with the Musgrave Group, who have presented placement opportunities for our students in the areas of general management and marketing for many years now.

It is great that many of these students are being offered full-time positions with Musgrave, both in their Cork and Dublin offices, once their placement has ended.

The Musgrave placements are in high demand by our students, given the great experience they know they will attain on these placements and the potential, afterwards, to begin their business careers with one of Ireland's largest and most respected retailers.

The other students on the programme have also benefitted greatly from the talks and presentations to the class by Musgrave representatives each year.

This year, as part of their market research module, the students were given a fascinating insight into 'Shoptalk', the online community platform developed by Musgrave to help them enhance their consumer offerings by listening more closely to customers, an initiative which won an industry award earlier this year".
Following graduation, many of these students, along with others from the Business School, seek out career opportunities at Musgrave through the supportive and award-winning Musgrave Graduate Programme.
Designed to invest in talent and foster the next generation of leaders that will allow Musgrave to achieve its long-term ambitions of Growing Good Business, the Musgrave Graduate Programme promotes experiential development by empowering graduates to take on real responsibility.
Working with experienced managers in their fields and supported by a customised development programme run in conjunction with the Irish Management Institute, graduates receive tailored training that encourages participants to develop and build critical business skills.
Such is its reputation and prestige, the Musgrave Graduate Programme was named as Ireland's Best Graduate Training & Development Programme at the 2019 gradIreland Graduate Recruitment Awards.
At the same ceremony, the expert judging panel also recognised Musgrave as the Irish Graduate Employer of the Year (<40 intake) and rewarded the organisation's investment in its Graduate website with a silver award in the Best Graduate Recruitment Website category.
The success of Musgrave at the gradIreland awards comes after the company was one of five organisations shortlisted for the Work Happy 100 awards in 2019.
Chris Martin, CEO of Musgrave, explains: "At Musgrave, investing in and developing new talent within our business is critical to our future vision for the business.

Retail is a fast-paced industry and today it is evolving rapidly with the explosion in digital technology and changing food trends.

As a business we have an ambitious 2025 vision for redefining food retail and transforming wholesale, and our colleagues are using their passion, energy and expertise to deliver on this.

I think this is an extremely exciting time for graduates to be joining a food business and our programme presents an opportunity for young talented individuals to carve out a career path in an expanding and diverse sector."
The Musgrave Graduate Programme will be once again be accepting applications from September 2019 until mid-October for graduate opportunities in their 2020 Programme.
For further details, visit www.musgravegraduates.com