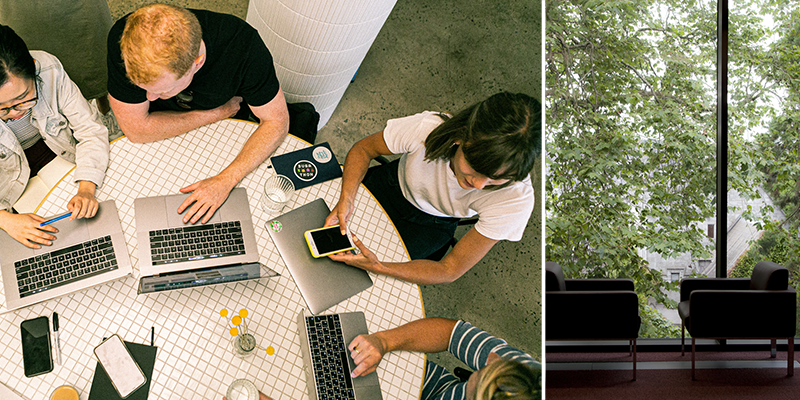 MSc Scholarship Opportunity
"Digitization in B2B Networks"
Degree / Duration: Masters (MSc) by research (12 months), start date September 2022
Project Outline
Digitization is quickly becoming a dominant area of research within the field of Business-to-Business (B2B) marketing (Cortez & Johnston, 2017). Digital based relationships and networks are emerging as an important means of resource exchange (Steinhoff, Arli, Weaven, & Kizlenkova, 2019). Interaction processes are evolving as new spaces or environments emerge in step with new technology development and adoption. Research within this area is embryonic with empirical studies primarily focused on a large firm context. Yet, networks of relationships are particularly important for entrepreneurial firms to overcome the liabilities of smallness and newness to succeed (Newbert et al., 2013; Semrau & Werner, 2014). Networks are a core theme within the field of entrepreneurship (Jack, 2010) providing access to external opportunities and resources, critical information, advice and ideas, and enhanced reputation (Hoang & Yi, 2015; Larson & Starr, 1993). Yet, there remains gaps in our understanding of digital-based B2B relationships and networks within an entrepreneurial context. Hence, we seek proposals relating to the following themes/areas:
The impact of new virtual spaces for interaction such as Virtual and Augmented Reality (Boyd & Koles, 2019), Social Media, and other digital technologies.
The influence of digital media on entrepreneurial network processes, such as; internationalisation (Fraccastoro, Gabrielsson & Chetty, 2021), value co-creation, collaboration (Corsaro & Anzivino, 2021; Pagani & Pardo, 2017) and co-opetition.
Sustainability processes and circular economy innovations through digital technologies in B2B contexts, for example, Blockchain use in supply chain, or Big Data and analytics in entrepreneurial decision making (Sivarajah, Irani, Gupta & Mahroof, 2020).
The dark side (Abosag, Yen & Barnes, 2016) of digital networks, such as security and privacy issues surrounding Internet of Things (IoT) adoption or use of Artificial Intelligence (AI) in B2B relationships and networks (Osmonbekov & Johnston, 2018).
Influencer Marketing in a B2B digital network context.
Entrepreneurial strategic processes in using social media marketing (Drummond, O'Toole & McGrath, 2020; Cartwright, Liu & Raddats, 2021) with B2B network actors such as suppliers, distributors, buyers, and other network influencers.
Requirements
Applicants must be from the European Union and have a good primary degree (First or Upper Second Class Honours) in an appropriate discipline (e.g., Marketing, Business Management, Entrepreneurship or other relevant degree). The successful candidate should be self-motivated and have a keen interest in business-to-business marketing, digital marketing, and entrepreneurship.
If English is not your first language you will need to satisfy the English language requirement:
IELTS: 6.5 - with no individual section lower than 5.5
TOEFL: 90 - with minimum scores as follows: Listening - 17; Reading - 18; Speaking - 20; Writing – 17
Scholarship Details
The MSc Scholarship is a research project supported by the Department of Management and Marketing of Cork University Business School (CUBS), University College Cork (UCC). The student will work under the supervision of Dr. Conor Drummond and Dr. Helen McGrath in the Department of Management and Marketing and the scholarship is envisaged to commence on 1st September 2022.
The scholarship funding is €12,000 per annum (subject to satisfactory progress) and also includes University fees of up to a maximum of €5,570.
The successful applicant will receive tailored guidance on their research, be part of a burgeoning research-focused Department and School, gain access to key international networks, in addition to gaining experience in third-level tutoring.
Further Information/Applications
Please contact either of the following for more information and guidance regarding the scholarship and making an application:
Dr. Conor Drummond ([email protected])
Dr. Helen McGrath ([email protected]).
Application Procedure
Submit an electronic copy of the completed application form, detailing a research proposal aligned with the project brief provided above. Your application should be accompanied by a Curriculum Vitae (including the contact details of two referees) and a letter of interest simultaneously to:
Dr. Conor Drummond, Cork University Business School, Cork, University College Cork
Email: [email protected]
Dr. Helen McGrath, Cork University Business School, Cork, University College Cork
Email: [email protected]
The successful scholarship awardee will then have to submit a formal application through the University application system where qualifications will need to be validated.
Closing Date
Monday, 6th June 2022. Interviews for shortlisted candidates will take place in early July 2022.
References
Abosag, I., Yen, D.A. and Barnes, B.R., 2016. What is dark about the dark-side of business relationships? Industrial Marketing Management, 55, pp.5-9.
Boyd, D.E. and Koles, B., 2019. Virtual reality and its impact on B2B marketing: A value-in-use perspective. Journal of Business Research, 100, pp.590-598.
Cartwright, S., Liu, H. and Raddats, C., 2021. Strategic use of social media within business-to-business (B2B) marketing: A systematic literature review. Industrial Marketing Management, 97, pp.35-58.
Corsaro, D. and Anzivino, A., 2021. Understanding value creation in digital context: An empirical investigation of B2B. Marketing Theory, 21(3), pp. 317-349.
Cortez, R.M. and Johnston, W.J., 2017. The future of B2B marketing theory: A historical and prospective analysis. Industrial Marketing Management, 66, pp. 90-102.
Drummond, C., O'Toole, T. and McGrath, H., 2020. Digital engagement strategies and tactics in social media marketing. European Journal of Marketing, 54(6), pp. 1247-1280.
Fraccastoro, S., Gabrielsson, M., and Chetty, S., 2021. Social Media Firm Specific Advantages as Enablers of Network Embeddedness of International Entrepreneurial Ventures. Journal of World Business, 56(3), pp. 1-15.
Hoang, H. and Yi, A., 2015. Network-based Research in Entrepreneurship: A Decade in Review. Foundations and Trends in Entrepreneurship, 11(1), pp 1-54.
Jack, S. L. 2010. Approaches to studying networks: Implications and outcomes. Journal of Business Venturing, 25(1), pp. 120-137.
Larson, A. and Starr, J. A., 1993. A network model of organization formation. Entrepreneurship Theory and Practice, 17(2), pp. 5-15.
Newbert, S.L., Tornikoski, E.T. and Quigley, N.R., 2013. Exploring the evolution of supporter networks in the creation of new organizations. Journal of Business Venturing, 28(2), pp.281-298.
Osmonbekov, T. and Johnston, W.J., 2018. Adoption of the Internet of Things technologies in business procurement: impact on organizational buying behavior. Journal of Business & Industrial Marketing, 33(6), pp.781-791.
Pagani, M. and Pardo, C., 2017. The impact of digital technology on relationships in a business network. Industrial Marketing Management, 67, pp.185-192.
Semrau, T. and Werner, A., 2014. How exactly do network relationships pay off? The effects of network size and relationship quality on access to start–up resources. Entrepreneurship Theory and Practice, 38(3), pp.501-525.
Sivarajah, U., Irani, Z., Gupta, S. and Mahroof, K., 2020. Role of big data and social media analytics for business to business sustainability: A participatory web context. Industrial Marketing Management, 86, pp.163-179.
Steinhoff, L., Arli, D., Weaven, S. and Kozlenkova, I.V., 2019. Online relationship marketing. Journal of the Academy of Marketing Science, 47(3), pp. 369-393.