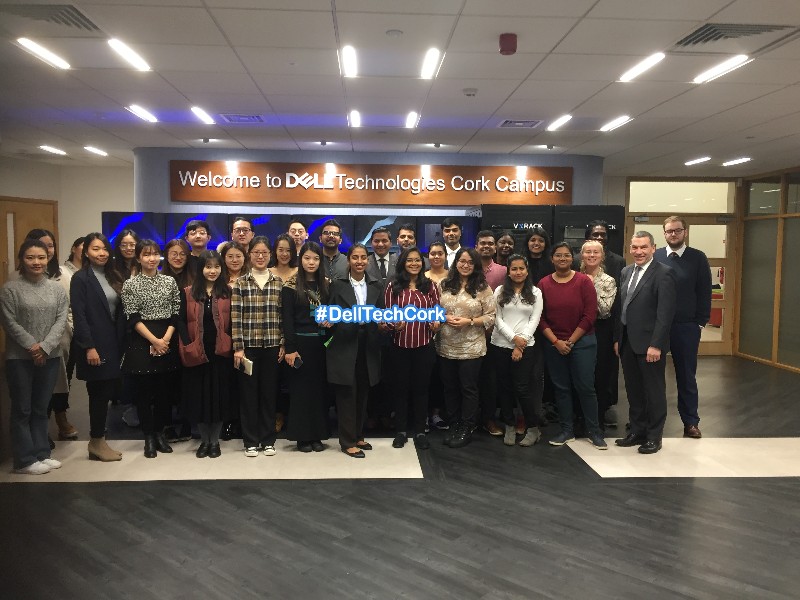 On 22 November 2019 the MSc in Management Information and Managerial Accounting Systems (MIMAS) class visited Dell Technologies as part of their Business Research and Communication Skills Course. The MIMAS course helps develop the communication and presentation skills of students along with heightening their level of Industry awareness.
The group were hosted by the Dell technologies team led by Seán Grant, Damian Nestor and Tom Herdman. The class were exposed to a session incorporating Technology in Operations, a session explaining the how the ICT function operates and a session reviewing the Finance organisation. These sessions were all aimed at expanding the groups knowledge of how a Multi-national organisation operates in a worldwide setting. A particular highlight of the day was a detailed plant tour where students had the opportunity to experience cutting edge manufacturing technology in operation as well as key Customer and Sales support enablers.
The group are very grateful to the MIMAS course Directors, Dr. Michelle Carr and Dr. Yvonne O'Connor in facilitating this engagement and to Dell Technologies for creating space in a hugely busy work environment to allow the class experience what it means to work in a World Class organisation.