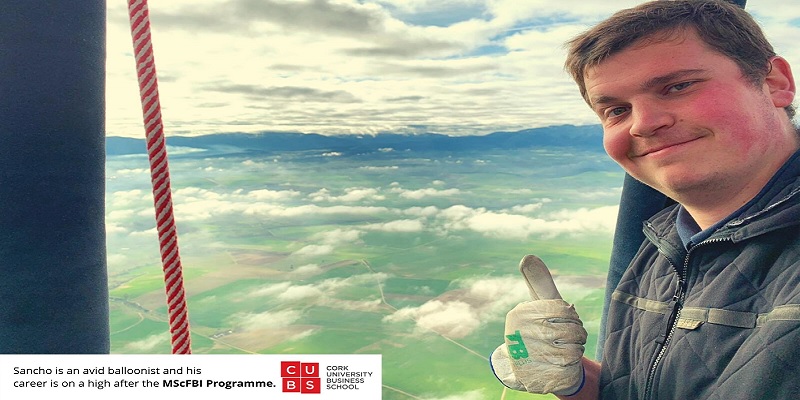 Sancho Criado del Rey, an MSc in Food Business and Innovation (MScFBI) student at Cork University Business School (CUBS), has been further developing an exciting new sustainable food business idea that he commenced while studying food entrepreneurship and innovation on the MScFBI programme at CUBS in 2021/2022.
What motivated Sancho to apply for the MScFBI?
"While I was studying gastronomic sciences at the Basque Culinary Center, I realized that food has the power to shape the world. The way different cultures feed themselves says a lot about who they are, but it also influences who they will be. I chose to study new product development through the last two years of my degree, and that led me to work as a research and development chef for almost three years in Spain and Canada. My intention was to learn about food production at an industrial level, so that I could apply it and help shape who we will be. The MSc FBI seemed like the appropriate programme for me to gain the knowledge I needed to create and manage a food business, it was a chance to get to know a different culture as I studied and the contents were what I was looking for."
What are the core advantages of the MScFBI, in his opinion?
"The first thing that struck my attention was the diversity between modules, all covering different but, in my opinion, very relevant materials. The programme is very marketing oriented, but also goes on about sustainability, global food systems, economy and supply chain management. Another thing that I immediately appreciated was the lecturer's availability and closeness; every teacher was always ready to help out."
A budding food entrepreneur, Sancho has researched his new business idea thoroughly during his master's programme, and is now further developing the idea that could see him harvest insects so that they could be integrated into food products, like protein shakes or sauces. He has used the theory and the practical skills he acquired on the MScFBI programme, such as food entrepreneurship, strategic food marketing and food branding and digital media marketing, to develop his idea.
What is Sancho's business idea?
"My business idea is to develop products that can effectively deliver the benefits of insect-based foods to society. The goal is to help build sustainable and resilient food systems for tomorrow. The business will start off by producing protein solutions for people who are reducing their consumption of meat for health and environmental reasons. This will be done by developing insect based foods that are a nutritious and delicious source of efficient and sustainable protein."
The MScFBI gave Sancho the opportunity to learn about customer brand relationships, supply chain management, economics and supply chain management, entrepreneurship, strategic marketing, branding, food retail management, and many other interpersonal skills.
How did the MScFBI support Sancho in developing and realising his business idea?
"Through the whole programme, entrepreneurship is encouraged and treated as a main topic. In fact, the capstone project consists of developing a business plan from an idea that is self-generated. Furthermore, the MScFBI Teaching Team led me to the Student Inc. programme, where I was able to conceptualise and model a business out of a very raw idea."
What is Sancho's plan for the future?
"I like to think that in three years I will have managed to launch and market an interesting insect-based product that will provide access for new product development. I intend to be looking out for new ways of incorporating insects into our food system and I'd like to have a small team of people being part of the project, and bringing diversity to the table."
Sancho has worked closely with the dynamic MScFBI academic team and colleagues throughout the past year and now aims to produce a business plan and to complete his thesis by September, paving the way for him to become an early-stage food entrepreneur after he graduates.
"Before I enrolled in the MScFBI, I had no business idea, and did not feel ready to develop an enterprise. This programme made me think differently, interact with different cultures, and provided me with a set of skills that make me feel more comfortable with this journey, or at least make me feel more prepared to give it a go."
The MSc in Food Business and Innovation is a unique and future proofed one-year Programme, with food industry placement, that focuses on: entrepreneurship, innovation, design thinking, agri-food sustainability, digital media and metaverse marketing, and supply chain management. It provides students with expert skills to strategically analyse the food supply chain from the perspective of changing consumer demands, value addition, social media and branding opportunities, retail and food service markets, product innovation and food and health links.
The MSc in Food Business and Innovation programme (2022/2023) is open for applications and full details can be accessed at https://www.ucc.ie/en/ckl02/