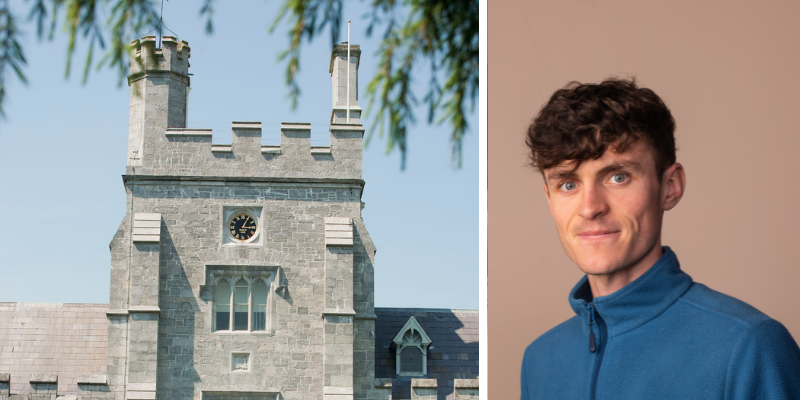 How Michael O'Connor Has Forge Values Led Career in Rural Development
One year after graduating with first class honours from the MSc Co-operatives, Agri-Food and Sustainable Development at Cork University Business School, Michael O'Connor finds himself working on a number of rural development projects with IRD Duhallow.
A science graduate with ambitions of working in sustainable agriculture, Michael knew that he would need to understand the fundamentals of business if he was to break into an industry that was about to enter a period of unprecedented growth.
"After completing my undergraduate degree, I knew that I would need to better understand the economics of agriculture, policy and rural development if I wanted to become an agricultural ecologist.

It might sound obvious, but all those things are linked. You can't just talk about sustainable agriculture without understanding social and economic sustainability.

That's what drew me to, and what I gained from, the MSc Co-operatives, Agri-Food and Sustainable Development".
Having grown up on a farm in west Limerick, Michael is keenly aware of the potential that exists in rural communities and their ability to become leaders in Ireland's transition toward a green economy.
That leadership is being provided by an array of interwoven stakeholders from across a multitude of groups and organisations whose ambition is to bind social and economic progress.
"Rural development is such a fascinating area to work in at the moment. You can really sense the vibrancy that exists around some of the programmes that are being rolled out.

In the past, it may have been difficult to generate engagement and interest, but now people from across rural Ireland are getting involved in programmes that aren't just about embedding green practices, they're also monetising sustainability.

From my perspective that's huge. In the past, I may have had to look abroad to begin a career in agroecology before coming home with years of experience.

I'm getting that experience in Ireland with IRD Duhallow and the industry is only going to continue growing as we all embrace sustainability".
The growing appetite for sustainable change has enabled Michael to align his job with the specific areas and fields that he's passionate about.
That has enabled Michael to begin forging a values led career that is built around concepts connected with agriculture, community and rural sustainability.
"I'm extremely lucky. I couldn't have dreamed up this job if I had been given the opportunity to write the spec. It really combines a lot of what I learned as a science and business graduate.

I'm working on farms, which is something that I have always wanted to do, on community driven projects, and on conservation and restoration schemes.

For me, being an agricultural ecologist is a pretty incredible job and I'm thankful that IRD Duhallow have given me this opportunity.

Maybe in a few years I'll begin to specialise in a specific field in the rural conservation space, but for now I'm only too happy to whet my feet in a few different areas".