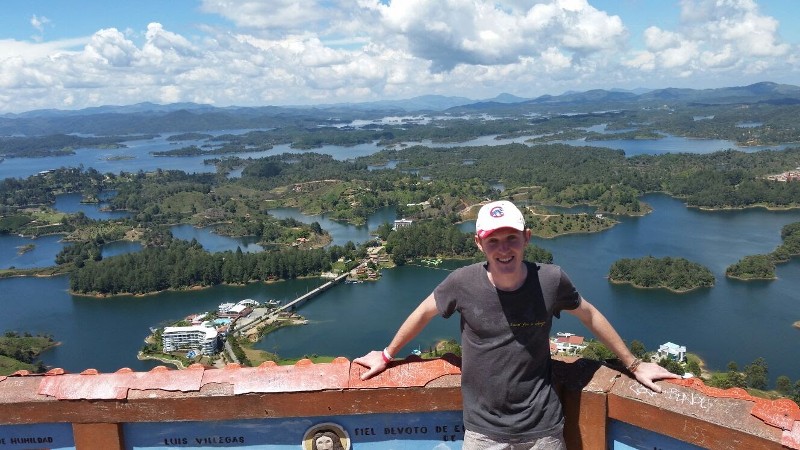 After a number of years working in the humanitarian and voluntary sectors, Christopher Moran set his sights on pursuing a postgraduate programme that aligned with his altruistic values and ideals.
Motivated by a desire to work in an environment where food supply chains are fairer and more sustainable, Christopher reached out to Dr Olive McCarthy after doing some initial research and decided to undertake the MSc in Co-operatives, Agri-Food and Sustainable Development.
During my final year as a BCOMM student, I spent some time volunteering in Cambodia. The trip provided me with some insight into the day-to-day operations of NGOs and the work involved in promoting sustainable development.

Over the next few years, I supplemented that initial experience working with a number of international humanitarian organisations.
It was then that I began to seriously look at postgraduate programmes that would enhance my CV.
As a multilingual industry professional who has worked with Amnesty International in France, the Columbian Red Cross, and as a volunteer in Fiji, Christopher sought out a programme that would expose him to specific niches in the sustainability space that focused primarily on food choices and systems.
The MSc in Co-operatives, Agri-Food and Sustainable Development was the perfect fit. The diversity of the coursework, the practical application of the material covered in class, the exposure to practice through field visits and close interaction with teaching staff all combined to give an invaluable launchpad for a career in this space.
Decisively, through its immersive work placement module, the MSc in Co-operatives, Agri-Food and Sustainable Development provided Christopher with the freedom to explore food consumption in Irish households.
The work placement module was a game breaker for me. It's given me the freedom to conduct research into sustainable food consumption – an area that I feel passionate about.

I'm working within CUBS, focussing on food provisioning in Irish households, that is, where people buy their food and how this influences their food consumption practices.

In all, 20 and 40 families will be interviewed, looking at how they plan, buy, cook, and, most importantly, dispose food.
"Getting exposed to the world of research has been eye opening. Dr Olive McCarthy and Dr Noreen Byrne provide you with thought provoking insights that assist and challenge you. The whole area is so fascinating to me, that I might consider pursuing a PhD programme in the future."
For further information on the MSc in Co-operatives, Agri-Food and Sustainable Development, contact Dr Olive McCarthy.