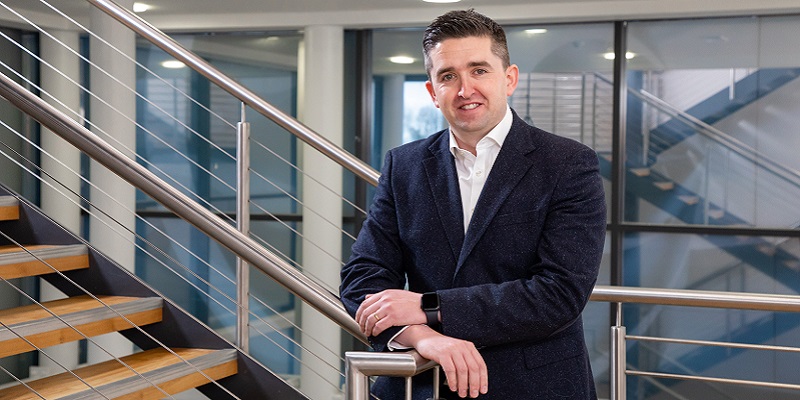 Attracted to the possibility of undertaking independent research, Redmond Walsh enrolled in the MSc Business Economics with the aim of acquiring the soft skills that impress senior management teams. This Redmond hoped, would allow him to rapidly navigate organisational structures and climb org charts after he graduated.
Having originally graduated from the University of Limerick with a degree in accounting, Redmond understood that he would need to complement his already impressive skillset so that he could employ a multifaceted approach toward problem solving.
One of the first things you learn in business is that nothing is black and white. What might appear to be a simple solution on a spread sheet doesn't necessarily transfer into the real world.

That's what encouraged me to enrol in the MSc Business Economics. I wanted to be able to complement my accountancy degree with a programme that gave me the professional skills that would allow me to progress.

At the beginning of the programme, I remember delivering a presentation that had all the relevant information but didn't engage the audience.

By the end of the programme, I was collaborating with my classmates on draft white papers on electric vehicles and presenting our findings back to lecturers who were grading us on the details and the way we delivered the message.

The lecturers really encouraged us to think laterally in that regard. I can't thank him them enough, they really set me up for a professional career.
After being exposed to cutting edge ideas around negotiation, people management and the processes involved in critical thinking, Redmond's newly acquired knowledge and skills propelled him up the org chart at Digital Realty before he joined EirTrade Aviation.
Despite having a limited knowledge of the aviation sector, within three years, Redmond became the company's Chief Financial Officer.
One of the great things about the programme was that we were tasked with developing solutions to contemporary problems, which made the course hugely interesting.

I can remember really passionate debates about the rationale behind the bank guarantee scheme and the strategies that government were pursuing as we emerged from the crash.

One of my classmates studied how the library staff at UCC categorised and stored books. He came up with a whole new system. The project impressed Accenture's recruitment team that they immediately offered him a job.
In his current role, Redmond leans on the problem-solving skills the programme fosters among students. As Eirtrade's CFO, he is tasked with acquiring aircraft that are coming to the end of their lifespan.
while those aircraft are disassembled in Eirtrade's dismantling facility at Knock Airport, Redmond negotiates with buyers who may be interested in purchasing specific parts.
My job centres around identifying and acquiring aircraft that are coming to the end of their lifecycle.

Those aircraft are then flown into Knock where our engineers begin the disassembly process before we sell on specific parts.

As you'd imagine, there is a huge amount of forecasting involved. Some parts may not be suitable to sell, or the aviation authorities may have ruled that certain parts don't meet the most recent standards.

That's all about problem solving and all those elements feed into our models. But we don't just deal in old aircraft.

In 2020, we became the first company in the world to dismantle an A380 aircraft, which is the largest passenger jet out there. That demonstrates the dynamic nature of what we do and the array of stakeholders we deal with.
Having firmly established himself at a C-suite level, Redmond is determined to help EirTrade Aviation to expand its operations on the world stage. This ambition is tethered to the company's aim of driving sustainable change, so that EirTrade Aviation can play its role in shaping our sustainable future.