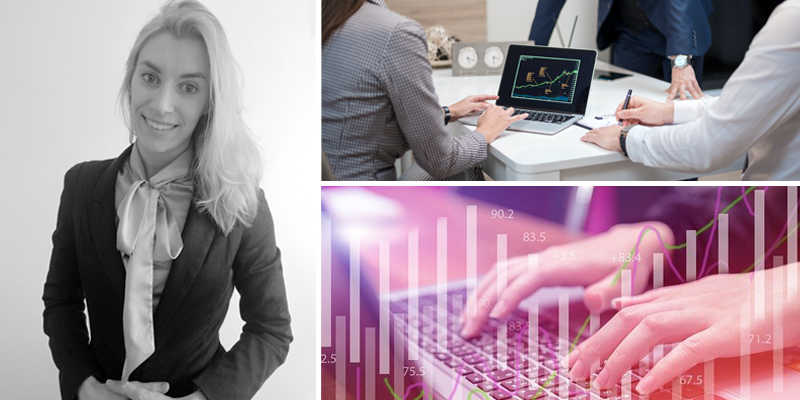 Intellectually curious, Shirley Brookes is forging a career that brings together her academic and professional interests at Citco.
A graduate of the MSc Business Economics programme at Cork University Business School, Shirley joined the financial services company earlier this year after her deep industry knowledge impressed the management team there.
That knowledge, which she accumulated after enrolling in the postgraduate programme, stemmed from a desire to discover more about economics and to explore how it impacts business processes.
Shirley's interest in this sparsely researched field of economics brought her to the attention of the expert faculty at CUBS, who introduced Shirley to the MSc Business Economics by providing her with the opportunity to tutor economics with the Centre for Policy Studies for three semesters.
With an ambition to delve deeper into a specific subject area, once Shirley had enrolled in the programme, Dr. Bernadette Power encouraged her to develop a concept for a research thesis that aligned with her curiosity.
I developed a real desire to explore economics from a business perspective during my undergrad degree.

I believed that a solid understanding of how the economy impacts on business processes would give me a professional edge and allow me to stand out to employers.

After much research, I found that the MSc Business Economic seemed almost tailor made for me.
Working on her thesis titled "The key determinants of Social Entrepreneurship across underdeveloped, developing and developed economies", Shirley began to develop a keen understanding of financial Economics and corporate treasury management.
As she navigated her way through the programme, the knowledge and skills that she began to develop aligned with those demanded by the financial services industry.
Inadvertently, the MSc Business Economics also prepared Shirley for high level interview questions with prospective employers by providing her with an informed analysis on derivatives and other financial securities through Dr. Declan Jordan's stimulating weekly market briefings.
The accumulation of such theoretical and contemporary knowledge ensured that Shirley maximised her opportunity of landing a role with a leading company like Citco after she graduated.
I believe the MSc Business Economics increased my chances of ultimately landing my current role with Citco Fund Services.

Having completed the programme, I was able to demonstrate an acquired knowledge of financial economics and corporate treasury management.

Even now, I have two folders of lecture notes that I refer back to on a daily basis. These resources have been the backbone of my understanding for various investment industry concepts since the day I began with Citco.

That knowledge prepared me for the corporate world.
Not content with what she has achieved to date, Shirley recently registered with the CFA Institute with the ambition of becoming a Chartered Financial Analyst.
Her desire to seek more knowledge and expertise is supported by Citco, who are eager to offer Shirley ongoing developmental opportunities.
In this sense, by grasping at the opportunities provided by the MSc Business Economics, Shirley is shaping her own career by following her interests and curiosities.