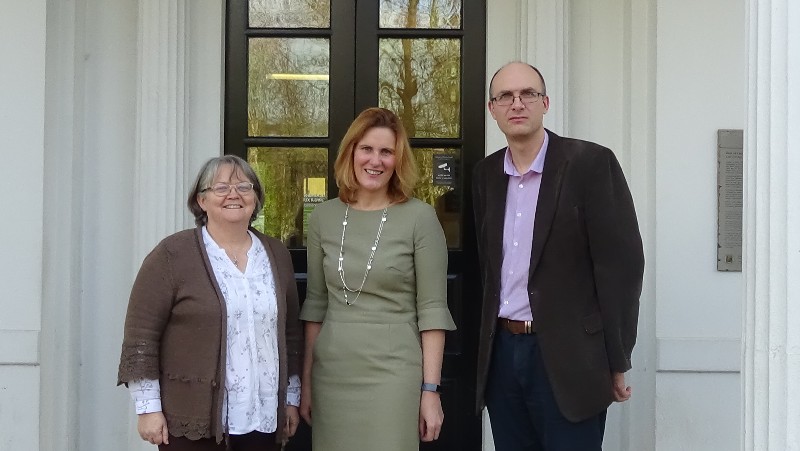 For the second consecutive year, a research paper by Dr Bernadette Power's research team has been recognised at the Irish Academy of Management Conference.
This year an interdisciplinary working paper, which was co-authored by Dr Ellen O'Connor (Environmental Research Institute), Dr John Eakins (CUBS), Dr Celine McInerney (CUBS), Dr Stig Hellebust (School of Chemistry UCC), and Dr Timothy Sullivan (School of Biological, Earth and Environmental Sciences), won the Best Paper Award for the Corporate Social Responsibility Track and Best Overall Paper.
Using data from the CSO business survey and the Environmental Protection Agency's annual reports and website, their award winning paper examined the impact of environmental enforcement activities on business compliance and on sustainability-based outcomes. The paper suggests that while traditional enforcement activities (e.g. prosecutions, fines) are important in delivering improved outcomes, that non-traditional instruments (e.g. sector plans, green badges ) could also be applied in conjunction with traditional activities to bring about "positive sustainable behaviour that is likely to be long-lasting and more closely associated with the ultimate objective of environmental regulation."
Our paper sought to ask how the EPA can foster an environment where firms are encouraged to move 'beyond compliance' in order to promote sustainable behaviours that drive environmental quality.

The EPA wants firms to change their behaviour, so that they become proactive rather than reactive.

That's why they asked us to look at the link between enforcement and environmental outcomes.
Employing a CSO dataset containing 35,700 observations on 8,204 industrial enterprises between 2006 and 2014, Dr Power and the research team went about investigating whether or not enforcement activity can be linked to investments in cleaner technologies leading to more embedded sustainable practices.
Inspections and prosecutions compel organisations to comply with environmental regulations. Dr Power and her research team find that there was evidence that prosecutions fail to foster an environment where firms embrace 'beyond compliance'. When they looked at the impact of prosecutions on investment in clean technology, a sustainability-based outcome, they found that it was the 'headline-grabbing' magnitude of the financial penalty that was effective rather than the number of prosecutions in the sector.
Internationally, a new approach is supported by the OECD, which encourages regulators and organisations to work together to solve problems and maintain standards. The rationale is that a more cooperative approach will be cost-effective and foster an environment where firms embrace 'beyond compliance'.
Consequently, Dr Power suggests that the EPA should reward companies that go "above and beyond".
As we all know, reputation and brand integrity are important to businesses, particularly when it comes to promoting their environmental credentials.

While the OECD would like to encourage a co-operative approach between organisations and regulators, there is no real evidence out there detailing its effectiveness.

Ultimately, we need firms to do more. We need to encourage sustainable behaviours to prevent pollutants entering the environment.
For the moment at least, encouraging organisations to do more can prove challenging. The task facing the EPA is complex and can vary from compelling organisations included on the National Priority Sites List to improve standards, to incentivising others to embrace "beyond compliance".
The EPA don't just conduct inspections in Ireland, they also work with businesses to encourage them to reduce waste and recycle referred to as the 'circular economy'.

Although prosecutions do lead to increased compliance in licensed firms, they are viewed as a last resort after enforcement notices are issued.

However, when prosecutions do occur, there is a spill over effect, where companies in that region respond by investing in environmental technology.
As such, Dr Power and the research team believe that any co-operative approach needs to work in conjunction to traditional "command and control" regulation.
We know that self-regulation doesn't really work entirely, so you need to have an enforcement element there too.

But rather than just naming and shaming, you can also work with companies to reward good practices and positive outcomes that achieve "beyond compliance".

That's one of the conclusions we draw from our research.
Significant financial penalties for infringements of environmental regulation, targeted sector plans and business reputation effects offer opportunities to encourage compliance and beyond-compliance behaviour. It is also what the research team mean when they speak about employing "non-traditional instruments" to reward sustainable behaviour.
While there are Green Awards for businesses, not every organisation can win an award. Rewarding external accreditation for an effective environmental management system is another approach. ISO 14001 is the international standard that specifies requirements for an effective environmental management system and 989 Irish firms had ISO 14001 accreditation in 2017. Currently thirty-three firms in Ireland have achieved the newer Business Working Responsibly Mark (ISO 26000) which incorporates corporate social responsibility and sustainability. Obviously, reputation is an attribute valued and protected by business.
Dr Power and the team's on-going research will continue to examine the link between enforcement, licensing and environmental outcomes, and potentially give rise to "non-traditional instruments" that could encourage firms to take the step "beyond compliance".