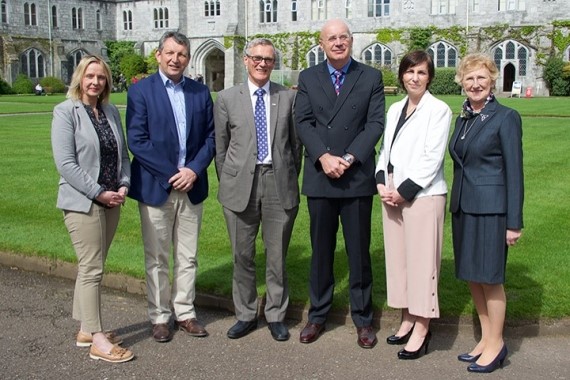 The new scholarship programme was launched officially on April 19 and has been created to provide financial support to Killarney Leaving Cert students to facilitate progression through a CUBS degree programme. Successful applicants from Killarney Community College, St Brigid's Presentation Secondary School, and St Brendan's College could receive funding of up to €3,000 a year.
Monex Financial Services owner and founder, Frank Murphy is a UCC graduate and a visiting Adjunct Professor for several years at the Cork University Business School.
Frank Murphy said he was proud to be able to support students in their studies.
"Over the last number of years I've had the pleasure of delivering lectures to the CUBS student body and engaging with the faculty in my role as adjunct Professor. I'm very impressed not only with the education standard and syllabus in respect of current business trends but also the interest displayed for the student's well-being. UCC is my alma mater so perhaps I am possibly a little biased!"
Speaking at the launch, Dean of Cork University Business School, Ciaran Murphy welcomed the introduction of the programme;
"Our students and, indeed, faculty are extremely fortunate that Frank Murphy, Adjunct Professor in CUBS, has so willingly agreed to offer his vast experience and expertise to them. We have all benefited from Frank's wisdom, practical advice and generosity of spirit. We truly value and appreciate the relationship with Monex and look forward to welcoming students from the schools in Killarney as they embark on their studies with us in Cork University Business School. We commend Monex for their support to local second level students in Killarney."
Also welcoming the news were Killarney school Principals;
"Killarney Community College has a long established tradition of educational endeavours with UCC and this further enforces the relationship." said Stella Loughnane , Killarney Community College Principal,

Principal of St. Brendan's College, Sean Coffee remarked "This support funding can make a major difference to a student moving away from home to begin university life"

"The fact that the scholarship is funded by a local financial services company reinforces the belief that success is possible with hard work, dedication and the right opportunities" commented Róisín Moore, Principal, St. Brigid's Presentation Secondary School.

The scholarship will offer financial assistance to facilitate progression through third level studies, and students from the three Killarney secondary schools, demonstrating academic commitment and dedication to their studies, are invited to apply. As part of their application, students will submit an essay outlining their suitability for the scholarship and the impact participating at CUBS will have on their academic ambitions. The programme will be promoted to students in-house by the schools' career guidance team.
The scholarship will be awarded based on need and merit and applications will open from mid-August until October 18, 2017 when CAO offer season ends.


Frank Murphy, Monex, (second from right) at the launch of the initiative at UCC with Michael Leahy, Accounting and Business Head, St.Brendan's College, Roisin Moore, Principal, St. Brigid's Presentation Secondary School and Stella Loughnane, Principal, Killarney Community College