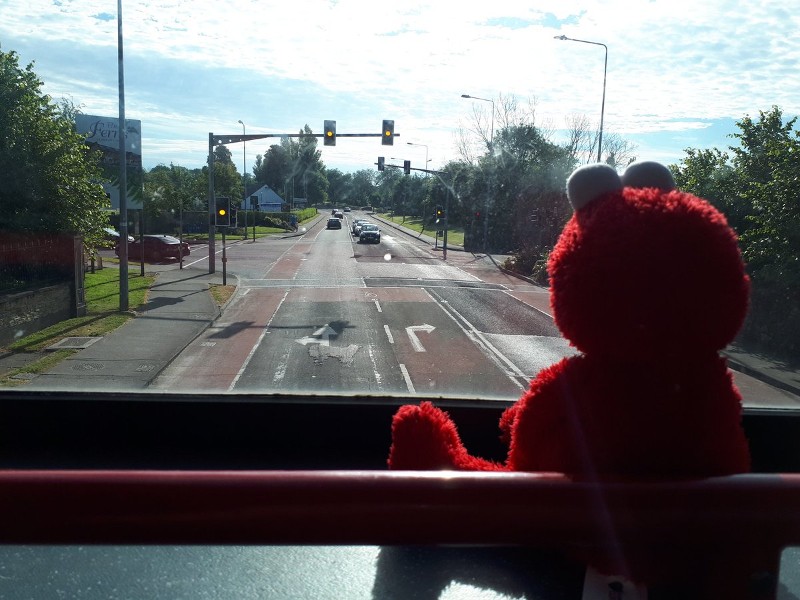 Rather than use social media to simply promote products, CUBS Lecturer Dave Alton encourages organisations to develop a strategic approach to digital marketing and build a brand message that really resonates with people.
What began as a social media campaign to reunite Elmo with his owner ended with a donation being made to the Children's Ward of Cork University Hospital.
Quite often, the best marketing campaigns are those that occur in the moment, where marketers spontaneously react to developing situations by weaving narratives that engage the public.
This is certainly the case with social media, where content that immediately resonates with users can very quickly gain virality.
However, identifying potential opportunities is only the catalyst for executing a successful social media campaign, digital marketers also need to understand their audience and call on their established business networks to engage with their content.
This is where CUBS lecturer, Dave Alton, lends his expertise, assisting O'Flynns Gourmet Sausage Company among other businesses with their business development, particularly in the areas of social media and digital marketing strategy.
Rather than use social media to simply promote products, Alton encourages organisations to provide a sense of personality and heritage by establishing themes and narratives that resonates with people.
"Every brand has a story to tell, particularly artisan food producers who put so much care into their products."
Although Alton has in the past employed custom imagery and videos to showcase O'Flynns, a lost Elmo teddy allowed him and the staff at the gourmet sausage producer to develop a campaign that ultimately led to a donation being made by Smyths Toys to the CUH.
"It started off with one of the guys finding an Elmo toy left behind by a family visiting the restaurant. The staff at O'Flynns are great at spotting potential social media opportunities, but we couldn't have predicted the coverage it received.
#GetElmoHome featured on local radio stations as well as receiving national coverage from the Irish Examiner and TV3".
Over the course of a week, the O'Flynns team put Elmo to work, publishing photographs of the Sesame Street resident working in a number of different roles across the company.
However, despite #GetElmohome gaining traction on social after a number of local businesses became involved, Elmo's family could not be found.
It was at this point that Alton contacted MSc Management and Marketing graduate and Smyths Toys Marketing Executive - Christopher Flemming.
After a quick conversation on LinkedIn, they agreed to lean on the momentum that had already been generated on social media to benefit CUH.
"Marketing in the moment is all about being spontaneous and having an established business and consumer network to maximise your campaign. I hadn't seen Chris for some time, but I knew he was well-regarded within Smyths Toys – 3 LinkedIn posts later and they had given the go-ahead to make the donation".
"It's a subtle example of the power of the UCC Business Alumni network. It's something that I communicate to each of the students that I come in contact with – the opportunities in your professional life will expand and contract based on three primary factors: your willingness to take risk; the size of your network; and your reputation within that same network.
With their goal now firmly established, Alton and the O'Flynns team once again captured the imagination of the city by photographing Elmo as he boarded the bus on his way to CUH.
The people of Cork responded, engaging with O'Flynn's social media posts as Elmo made his journey to the Children's Ward, before the successful campaign concluded with the all-important donation being made.
"It's a good news story. The campaign, if you could even call it that, isn't going to revolutionize the O'Flynns brand, nor was it ever intended to. It's a small example of marketing for the greater good, and the impact a small local producer can have, leveraging its networks and not focussing on the narrow ambition of simply selling produce – the kids in the CUH will have a few extra toys to play with and that's the only thing that really matters about this campaign."
#GetElmoHome - UPDATE

Elmo has a new home now after being found in store a few weeks back! Well done to all at @oflynnssausages, @SmythsToysIRE and @CUH_Cork for adopting him... We hope he has a great time there! https://t.co/wO2NiVZQM9

— Cork's RedFM (@CorksRedFM) June 26, 2018
Elmo is just having a final look over The @EnglishMarket ahead of tomorrow's #RoyalVisit to make sure it's all in good shape!

He said 'Don't worry @RoyalFamily, the place is looking spectacular for the #RoyalVisitCork"#GetElmoHome #RoyalVisitIreland #PureCork pic.twitter.com/9kt0AsliYY

— O'Flynns Sausages (@oflynnssausages) June 13, 2018