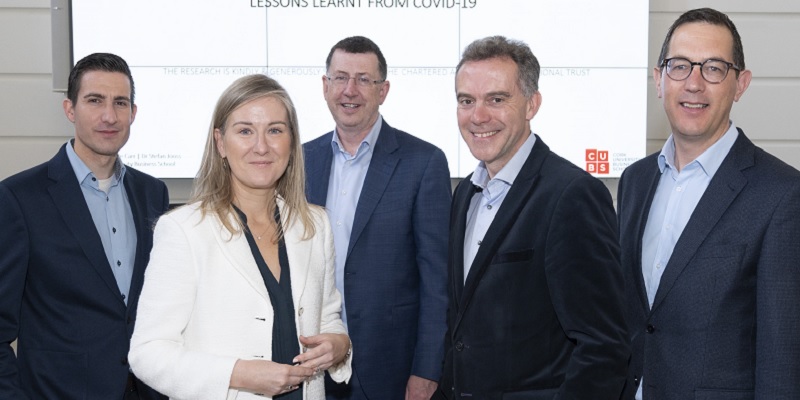 On Thursday, 26 May, Cork University Business School and the Chartered Accountants Educational Trust Ireland hosted a joint breakfast research seminar in The Banking Hall, Lapps Quay. The event attracted almost 50 attendees, discussing management control and hybrid work in a professional services context.
The seminar commenced with an opening keynote address by the newly elected Chartered Accountant President, Mr Pat O'Neill, who spoke about the issue of facilitating positive adaptation in the accounting profession.
The seminar also showcased the latest research from Dr Michelle Carr (Accounting) and Dr Stefan Jooss (Human Resources), who examined the management control changes made during the Covid-19 pandemic. Their research showed the critical role of organisational culture and highlighted the importance of the tone from the top and establishing new norms in a hybrid work context.
The event continued with a panel discussion, where representatives from each of the Big 4 firms provided their insights and shared their experiences to date. Conor Healy, CEO at the Cork Chamber of Commerce, skilfully moderated the panel discussion, considering some of the key challenges in a hybrid work setting: sustained firm performance, well-being of employees, and talent management.
Concluding remarks were presented by Barrie O'Connell, KPMG, who reflected on Cork's resilience during Covid-19 and provided an outlook of how Cork can continue its competitive position and sustainable development.
It is clear that hybrid work remains a key priority in organisations who aim to reimagine the workplace of the future. In many ways, managing the challenges of Covid-19 has seen firms taking a more people-focused approach to work. Firms developed new principles of work, emphasising flexibility, highlighting the value of 'being together', and 'making work human' - a silver lining of the pandemic.