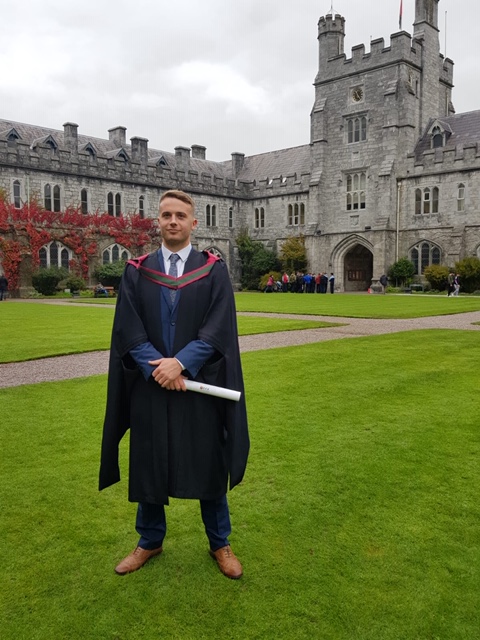 For many of us, there is a certain amount of alchemy attached to the entrepreneurial journey. In our imagination, it's as though the entire process begins with a transformative eureka moment that instantaneously changes the course of someone's life.
Of course, that's a very naïve interpretation. In reality, entrepreneurs spend countless hours conceptualising their business ideas, researching markets and networking with potential clients.
It's an extensive process that entrepreneurs must undertake if they want to successfully bring a concept to reality.
It's a well-worn path made easier by the Ignite programme at UCC, which supported Killian O'Keeffe's entrepreneurial journey.
A graduate of the MSc Design and Development of Digital Business at Cork University Business School, Killian developed the concept for Spotlexia – a digital tool that will assist families to interpret and correspond with educational psychologists after a learning difficulty has been diagnosed.
I came up with the idea after I found myself struggling with the volume of reading included in the MSc.

As someone with dyslexia, it was taking me two to three hours to read white papers. So when Dr Andrew Pope asked us to come up with an idea for digital business, I wanted to focus on developing a tool that would help in some way.
As part of the assignment, Killian wanted to develop a platform that would digitise the way dyslexia is tested. However, after consulting with parents, schools and educational psychologists, he found there was a demand for continued support following diagnosis.
Since graduating, Killian has gone about the process of bringing that concept to reality with the help and mentorship available as part of the Ignite programme.
The biggest problem facing parents and kids with learning difficulties at the moment is maintaining contact with educational psychologists after a diagnosis has taken place.

Spotlexia aims to alleviate this issue by breaking down the educational psychologist's report into video form, and providing access to the psychologist through a chatbot.

As it presently stands, the concept deviates from my original idea, but that's what the Ignite programme is all about. It forces you to really focus on developing a product that responds to the market.
With 2020 now in full view, Killian is finalising his plans for coming year, which include the construction of the Spotlexia platform with the help of a software designer.
After a great deal of painstaking research, this represents the beginning of an exciting chapter in Killian's entrepreneurial journey.
His first step will be to secure an Innovation Voucher from Enterprise Ireland, which will allow him to scale his business.
Things will step up a notch after Christmas. At the moment, the Spotlexia platform is based on wireframes and testing, but we will soon be building it.

We will also need to focus on how much I would like to charge for the product and what kind of customer we should be targeting.

I want to do this without losing sight of my bigger ambition, which is to do something positive for people with dyslexia.