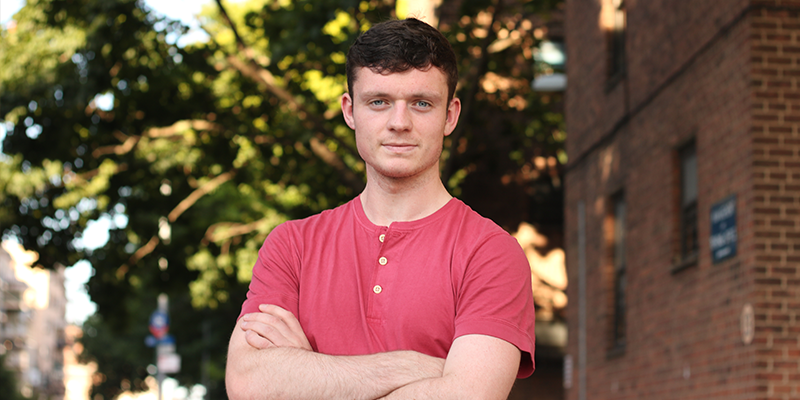 Ray Lahart is someone that doesn't just know what he wants, but is the type of person who builds a cohesive plan that will help him secure his goals.
Long before he had even considered studying at Cork University Business School, Ray knew that he wanted to pursue a career in the food industry.
At the time, the BSc Food Marketing and Entrepreneurship seemed like the easiest way of fulfilling that ambition, but as is often the case, the unexpected can block the quickest route.
However, rather than allowing himself to get too disappointed about not securing enough leaving cert points to win a place on the programme, Ray instead began to navigate an unconventional path into the food industry.
Rather than enrolling in the Business School, Ray accepted an offer to study Arts and do a joint honours in History and Economics.
Studying Arts really stood to me in the long term. There were a lot of individual assignments in History, which meant that you had to motivate yourself and engage in independent thinking.

Economics introduced me to concepts around corporate strategy, econometrics and statistics, which ultimately helped me as well.

Looking back, Arts really prepared me for the MSc Food Business and Innovation by enhancing my individual work ethic.
After graduating, Ray was able to enrol in the MSc Food Business and Innovation and firmly fix his attention on taking a direct path into the food industry from there.
Paying specific interest to the potential challenges posed by BREXIT, Ray narrowed his focus further, as he began to seek out research and work placement opportunities with beef exporting organisations.
Leaning on the knowledge he gleaned from studying economics, Ray was also able to centre his research project on potential alternative destinations for Irish beef in a post BREXIT environment.
His knowledge and burgeoning expertise made Ray attractive to beef exporters when he started searching for a work placement position.
After surveying his options, Ray chose Steaks Direct, as their export ambitions aligned with his own research objectives. That opportunity allowed him to grow professionally and provided him with the industry knowledge to successfully apply for the Dawn Meats graduate programme.
In his current role, Ray has been able to apply the conclusions of his research, in Dawn Meats who have ambitions to export Irish beef into China.
Satisfied that he has been able to fulfil his ambition of working in the food sector, Ray has set his sights on longer-term goals centred on developing a successful career at Dawn Meats.