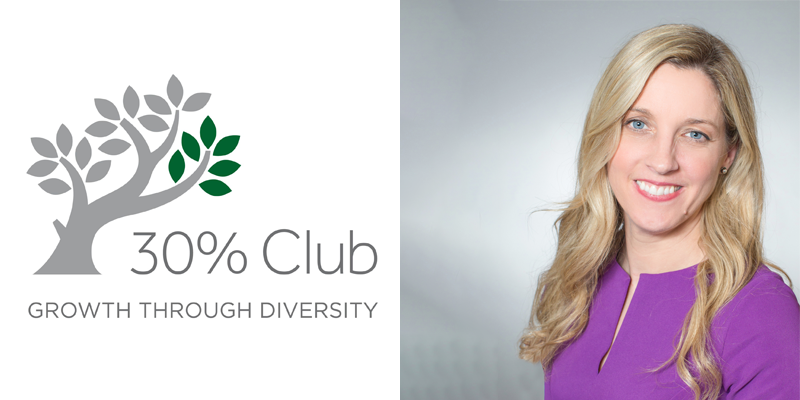 Karen Fleming, Sales Director at Hayfield Manor, has been awarded the CUBS 30% Club UCC Executive MBA Scholarship, paving the way for her to become a business leader and a key organisational decision-maker.
Established with the ambition of achieving better gender balance at all levels in leading Irish businesses, the CUBS 30% Club UCC Executive MBA Scholarship is designed to help promote women take on leadership roles within companies and organisations.
A significant objective in light of the challenges faced by women during the pandemic, according to Professor Thia Hennessy, Dean of Cork University Business School.
I'm delighted to award Karen the CUBS 30% Club UCC Executive MBA Scholarship. The pandemic has adversely impacted many women who have had to juggle their caregiving responsibilities while working full time.

This hasn't just upended their work/life balance but created anxiety around career progression.

I hope that the Scholarship will help Karen navigate what was already a challenging landscape for women.
Determined to maximise her ability to contribute to her community and industry, Karen applied for the CUBS 30% Club UCC Executive MBA Scholarship to gain valuable insights from a broad range of industry and organisational experts.
I'm a great admirer of the 30% Club. Through my work with Network Cork, I have been fortunate to meet many of the organisation's board members.

I really value their ambition to meet the clear goals and targets that they have set for themselves.

Here in Cork, we're lucky to have so many women in leadership positions across multiple industries and organisations.

But, by the same token, we can do more to support and encourage women to join networking groups or to avail of educational opportunities.

How we can make this happen will shape much of my thinking as I engage with my peers and progress through the MBA programme.
UCC's Executive MBA programme's careful approach to class composition, which is intended to ensure that participants are exposed to a variety of professional and personal backgrounds, should facilitate Karen's search for insight and learnings.
The programme moves beyond providing a strong understanding of core organisational functions and skills by fostering an environment where working executives can develop an integrated and critical appreciation for the role of leaders and managers.
As the hospitality industry prepares for the challenges of operating in a post-pandemic landscape, Karen feels that the skills and knowledge that she will develop during the MBA programme will allow her to contribute to the strategies that will help sustain the sector into the future.
Everyone at Hayfield Manor is eager to start welcoming guests again.

We know that there is a huge amount of pent-up demand out there and we're excited about opening our doors to national and international guests once it's safe to do so.

We are part of a very resilient and agile industry that is accustomed to rapid and instantaneous change. Last summer, for example, we quickly trained our staff and made sure that the hotel was a safe environment as we prepared to reopen.

Longer-term, I'm excited about the future of the hospitality industry. Not just in terms of tourism, but our ability to work with businesses who want to encourage staff to think laterally outside of the office environment.

Zoom has been great, but it struggles to foster innovation and that's where the hospitality industry can offer something different.
A collaborative initiative, the CUBS 30% Club UCC Executive MBA Scholarship was launched in September 2018 by Professor Thia Hennessy, Dean of Cork University Business School, and Carol Andrews, Chair of the 30% Club Ireland.