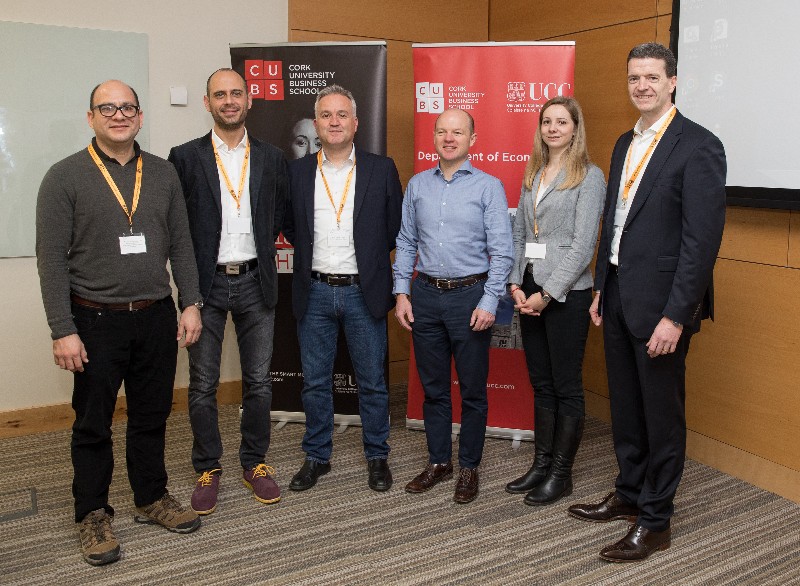 The recent Irish Finance Symposium took place on the 24th November 2017 and was hosted by the Department of Economics and Cork University Business School. The event, organised by Professor Niall O'Sullivan, brought together contributors from across the Irish academic finance community to UCC.
This inaugural event included participants from University College Cork, University College Dublin, Trinity College Dublin, Dublin City University, National University of Ireland, Galway (NUI Galway), Maynooth University and Queen's University Belfast.
Professor Don Bredin from UCD was the first of the guest speakers. He presented evidence from rational and behavioural models on commodity pricing. This was followed by Dr Youwei from Queen's University Belfast sharing recent work on the long memory in financial markets.
CUBS faculty member Professor Niall O'Sullivan then took centre stage to present a paper titled, "A Nonparametric Test of Fund Performance Persistence". Following this, Professor Ronan Powell, UCD took his place at the podium to share insights on the impact of economic nationalism in Europe on the returns to rivals of crossborder merger and acquisition bids.

In the second half of the day, Ms Pia Helbing from Trinity College started the session with an interesting presentation on why European companies withdraw from IPOs. This also saw Dr Alessandro Palandri (DCU) speak to his research in a paper titled, "Conditional Second Moments from High Frequency Data for Optimal Portfolio Allocations". Alongside this, a multi-century perspective on return predictability and price bubbles was shared by University College Dublin academic, Professor Valerio Poti

The final speaker for the symposium was Dr Juan Carlos Arismendi Zambrano of Maynooth University, discussing voltitity in financial markets with a paper on "The Impact on Volatility from Information Sentiment of Federal Reserve Chair (FRC) Communications".
The symposium saw a wide range of academics from across the Finance community in Ireland gather at University College Cork for a successful event.
.