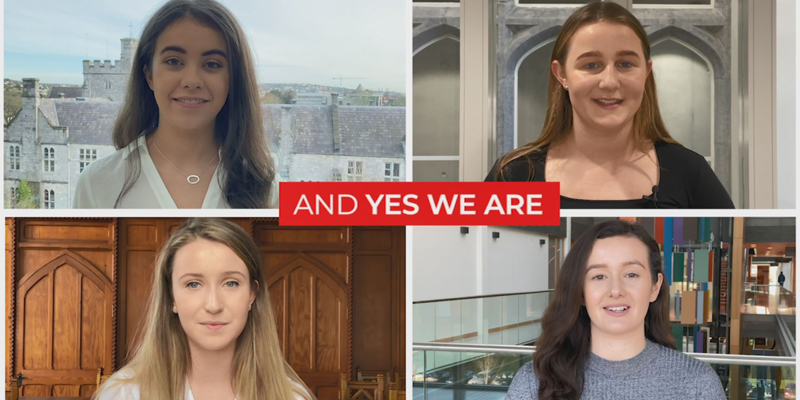 Inspired by some of history's most prominent and influential female writers, Cork University Business School at University College Cork have created a moving video to celebrate International Women's Day.
Featuring CUBS students; Kate Madden, Eabha Landers, Emily Duffy, Jennifer Chadwick and Anisha Lulla, the video weaves an emotive narrative by connecting powerful passages from books and speeches penned by four of the most prominent female writers and intellectuals of the last 220 years.
Filmed across numerous locations on UCC's stunning campus, including the new Hub building which opened its doors on January 6th, the students respond to a question posed by Michelle Obama, who asked "am I good enough" in her autobiography Becoming, by drawing on influential quotes from Roxane Gay, Jane Austen, and Nora Ephron.
Designed to signify the passing of the torch to a new generation of female leaders, the video culminates with each of the students saying "yes we are" in unison, echoing Michelle Obama's response to her rhetorical question.
Speaking ahead of the CUBS Conference, Ciara O'Callaghan of KPMG described how KPMG have worked to promote gender equality.
Inclusion and diversity is a core value at KPMG and I am lucky to work with a lot of inspiring and ambitious men and women. Gender equality in business is a passion of mine and I look forward to discussing the future of women in business, and the initiatives KPMG support to encourage the next generation of women leaders.
The video will be played in front of a sold out CUBS Conference 2020 audience at the Cork Opera House on Tuesday, 10th March. 'The Future of Women in Business' panel will be moderated by Emmy Award winning former CNN correspondent, Gina London, and she will converse with female speakers working in pharma, consulting, treasury, and performance coaching.