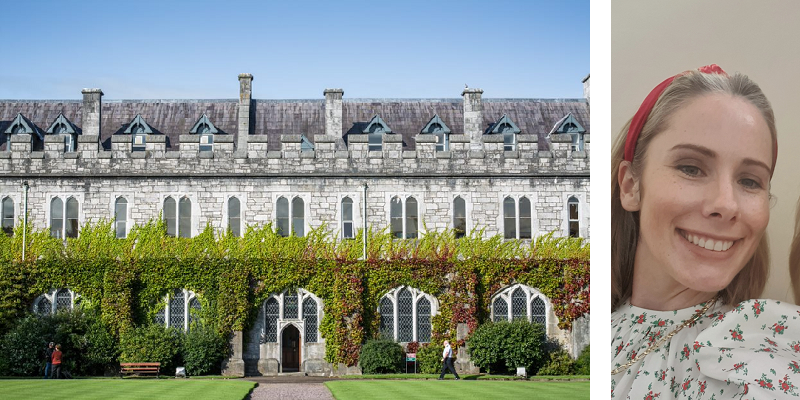 Having graduated from the University of Limerick with a degree in Business Studies, Eddie Barrett sought out a postgraduate programme that would give her a competitive edge in a jobs market that was emerging from the economic crash.
Open to the possibility of exploring programmes at any number of national and international universities, Eddie wanted to enrol in a course that was designed in consultation with business leaders so that she could make an immediate and valued contribution to potential employers.
As I was coming to the end of my undergrad, I began to look at programmes at a number of universities in Ireland, the UK and further afield.

Because the jobs market was unbelievably competitive at the time, I began to look for points of difference that would make me stand out.

The MSc Business Economics caught my eye because it places such an emphasis on developing communication and presentation skills.

In the modern workplace, you need to make your case succinctly and in such a way that it brings people with you. The MSc Business Economics really delivers in that sense.

Even today, years after I finished the programme, I still look back on my notes before I make key presentations.
Once she had enrolled in the programme, Eddie was given the opportunity to study the online gaming industry and to investigate how it was beginning to significantly eat into a market that was once dominated by bookmakers who were employing traditional shop front business models.
Eddie's interest in the subject, which stemmed from her own knowledge of working with a local bookmaking firm, quickly formed the basis for a thesis that transcended research and industry.
As such, Eddie's thesis engaged industry experts, one of whom offered her a three-month internship which she turned into a full-time position.
I had been working with a local bookmaker for a number of years and could see how online gaming was going to change the industry.

The insights I gained from working with a traditional bookmaker really helped me to develop the idea for my thesis.

As part of the study, Dr. Catherine Kavanagh put me in touch with a CEO of a gaming company, who initially offered me a three-month internship.

Ultimately, I stayed there for five years before moving on to other roles within the industry which were based in London and since then I have become the COO of another company based in Malta.

It has been an incredible journey and was instigated by faculty who encouraged me to pursue something that I was really interested in.
Now in her role as a COO, Eddie continues to leverage many of the skills that she developed at CUBS. Her ability to undertake in depth research and comprehend the complex international regulations that govern the gaming industry has seen her rise through corporate structures.
You don't graduate from a programme like the MSc Business Economics without understanding what is involved in high level research. Quality research allows businesses to make informed strategic decisions.

In my role, for example, I spend a lot of time looking at how we might expand into new markets.

Part of that process involves looking at different regulatory environments to see how we could break into a new territory or country. You also need to communicate that research in such a way that it assures colleagues and investors.

Which brings us back to communication skills and how much the programme values them.
Having spent much of her career in the gaming industry, rapidly reaching the c-suite level, Eddie's future ambitions lay beyond that environment.
As such, her immediate goal is to glean as many learnings as she can from her current role as COO, before investigating ways in which she might apply that knowledge across different industries in the future.