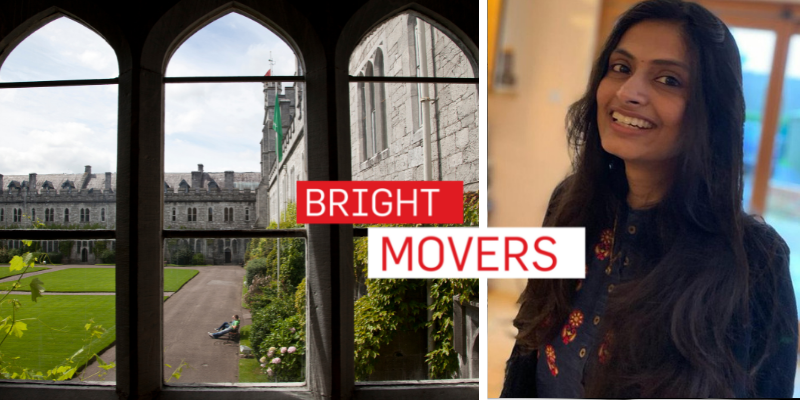 Determined to work and learn about sustainable development, Komal Kansagra made the decision to enrol in the MSc Co-operatives, Agri-Food and Sustainable Development at Cork University Business School for further exposure to global practices and innovations in the agriculture and food sector.
Intellectually curious, Komal had already completed a postgraduate degree programme and was quickly navigating a career as an environmental engineer with the Rajasthan State Pollution Control Board.
Although Komal's burgeoning career was bringing her into contact with some of India's leading agencies and corporations, she was also observing how inequality focussed on industrialisation and urbanisation which was indirectly contributing to the degradation of the environment in one of India's most significant agricultural regions.  
"I was really committed to my job and the career path that I was following. However, as I progressed, I could see how we were focussing on the economic development rather than trying to create a sustainable economy.
Intensive farming practices and industrialisation couldn't fully cover the true meaning of sustainability which makes a huge difference to improve water quality, soil conditioning and ecological wellbeing.
The situation that I was encountering encouraged me to investigate postgraduate programmes that would help me to understand sustainable development a little more".
After researching a series of different courses at a number of international universities, Komal realised that her ambition aligned with what the MSc Co-operatives, Agri-Food and Sustainable Development at CUBS offered students and graduates.
As someone who had developed a great deal of hands-on experience in biotechnology and the environmental field, Komal was specifically drawn to the programme's practice orientated approach, which aims to equip graduates with the organisational and management skills needed to make innovative contributions to the development of local economies.
"I didn't want a programme that would overload me with theory. I wanted a programme that would allow me to begin to make an immediate contribution.
That's what encouraged me to apply for the course. I wanted to be in a position where I could return to India with ideas that lead to practical solutions".
Komal's insistence on selecting a practice inspired course was rewarded when the programme directors offered her the opportunity to undertake her placement in UCC's Environmental Research Institute, where she investigated the conversion of waste into energy through anaerobic digestion.
Such was Komal's impact that the ERI offered her a role as research assistant after graduating, where she honed her skills and developed new knowledge around the co-operative management of anaerobic digestion plants.
"I jumped at the opportunity to work at the ERI. They were working on an anaerobic digestion project, and I immediately saw how relevant it could be for rural India.
It was really interesting to learn about how the co-operative model can manage and support anaerobic digestion.
I wasn't just learning about the theory, I was developing an understanding of the governance models and the subsidy schemes that have made anaerobic digestion successful in some parts of Europe.
It's the kind of practical knowledge that I can bring home with me in the future".
Having gained insights and developed her research, laboratory and management skills, Komal was able to land a role in laboratory operations and quality control system with WHC Lab. There, she leads a team that is looking to improve processes around testing and quality control.
Komal hopes that the technical skills that she is developing with WHC Lab will act as a platform for her to break into the food or pharma industry before being able to bring that knowledge and experience back to Rajasthan.